Recently I got myself a Google AIY kit for a fun little project I'm working on (more on that later when it is finished.), and while working on that, I decided to get some smart plugs to see how they would work.
So here is a small review/tutorial of my experience with the smart plugs.
Sidenote: I first got into Home Automation when I backed the Kickstarter project called Nuki in 2014, however, I never ended up using it as I live in an apartment four floors up with only one door. I was scared that the device would not die and lock us out of our appartment... I've recently discovered you can install locks with an 'emergency open' function, so will likely give this another try soon.
Anyways back to plugs,
Which Plug?
After some research, I ended up buying some 'cheap' 15 euro sockets on amazon.es. (this would be the US equivalent, which works with the same wifi chip) My primary requirements were; that they would be compatible with euro plugs (220v), that they are grounded and that they would be compatible with Google Assistant. Aside from that, it was pretty much whatever I could find.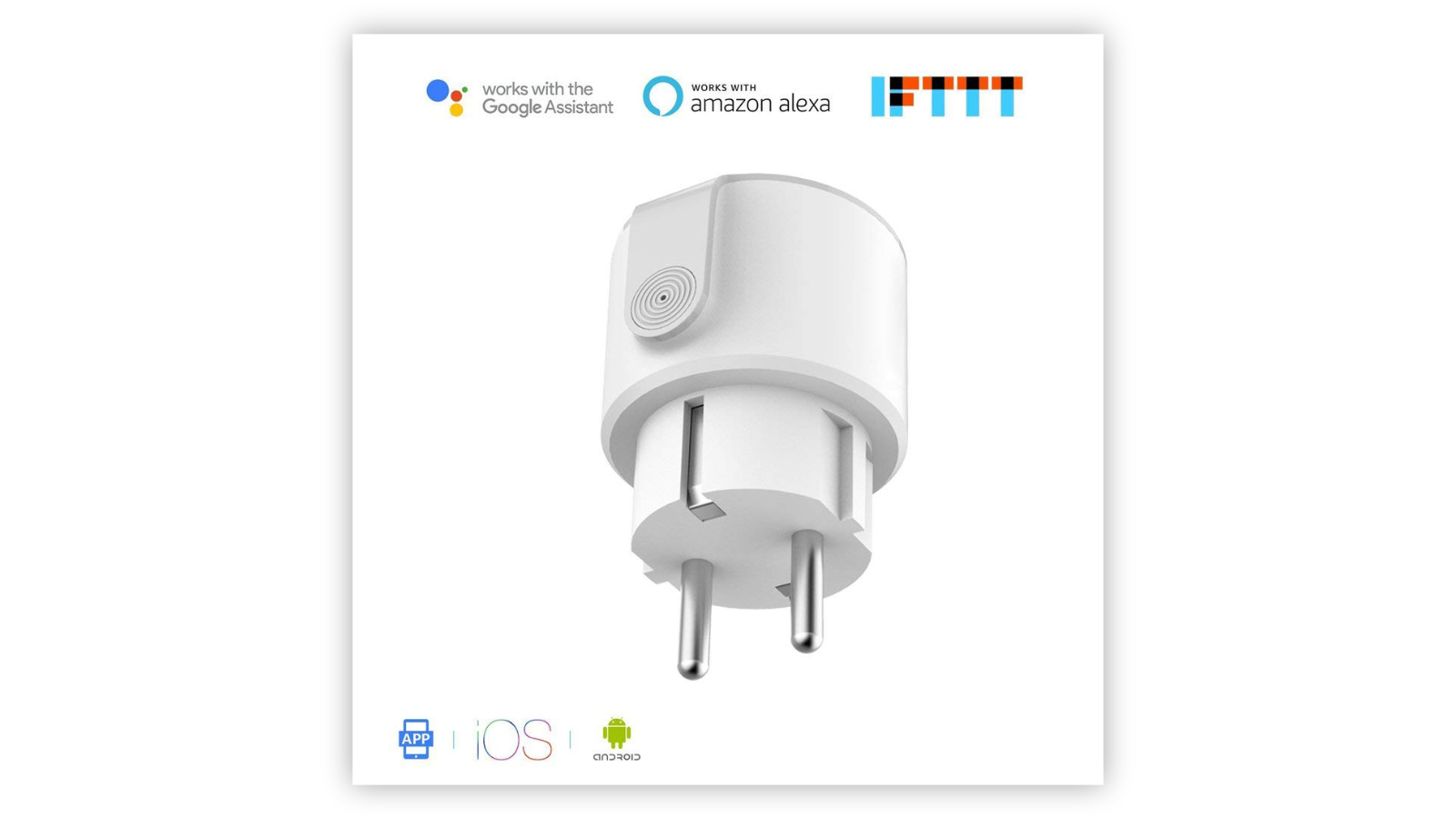 The smart plug I found works with Amazon Alexa, Google Assistant and IFTTT which allows for a lot of different functionality. Thanks to Amazon Prime the items arrived the next day, and it was time to install them. It turned out to be quite painful. But after I found why it wasn't working, installing them was a breeze.
Setting up
You start by downloading the smartlife app from your favourite app store (Apple Appstore or Google Play) you open the app and create a home in the app.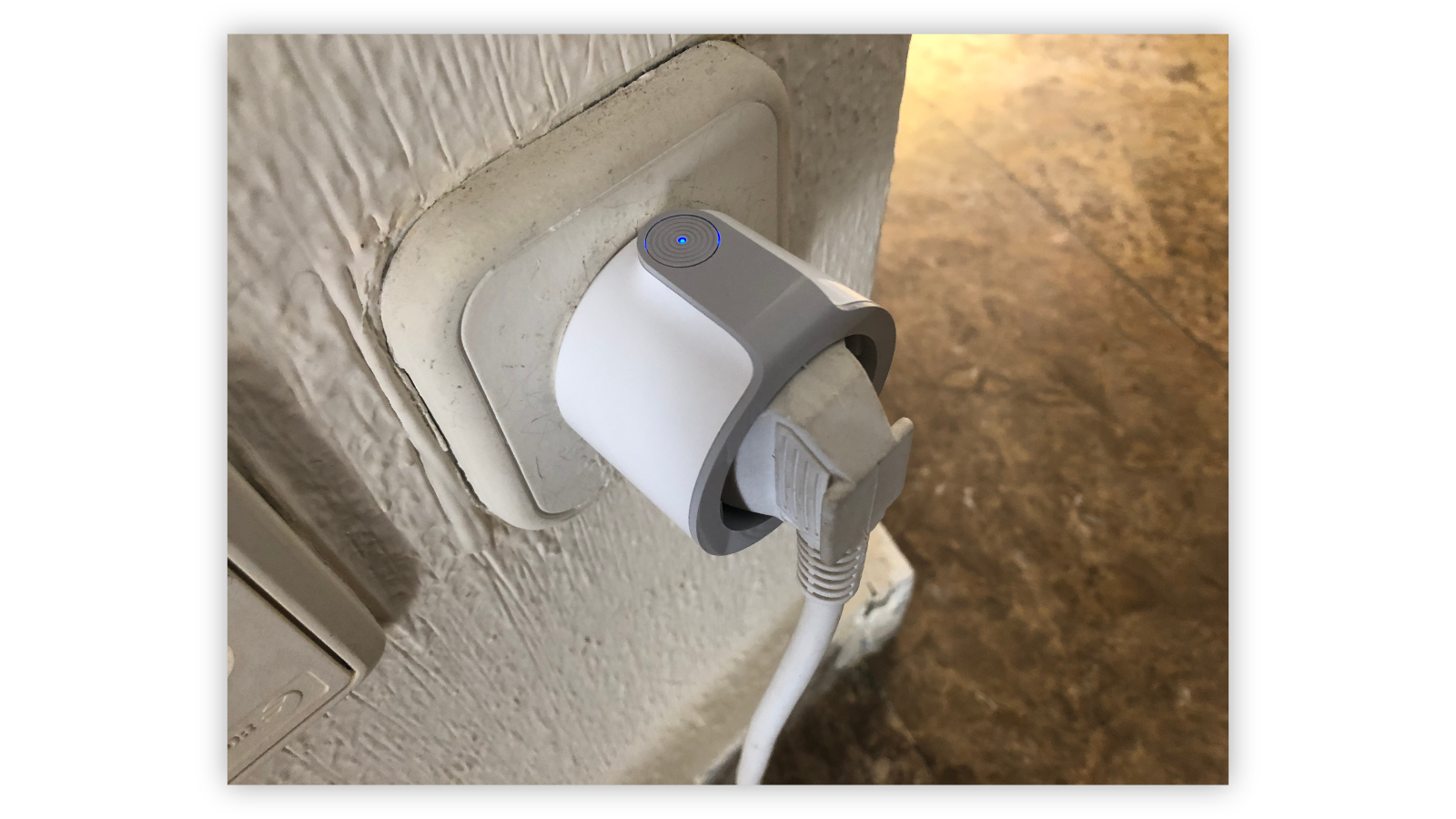 You plug in your smart plug and press the button for 5 seconds to set it in 'pairing mode'. You smart plug will start blinking twice per second. Now in the smartlife app, you hit the + button on the top right, select 'Electrical Outlet' and hit 'confirm indicator rapidly blink'.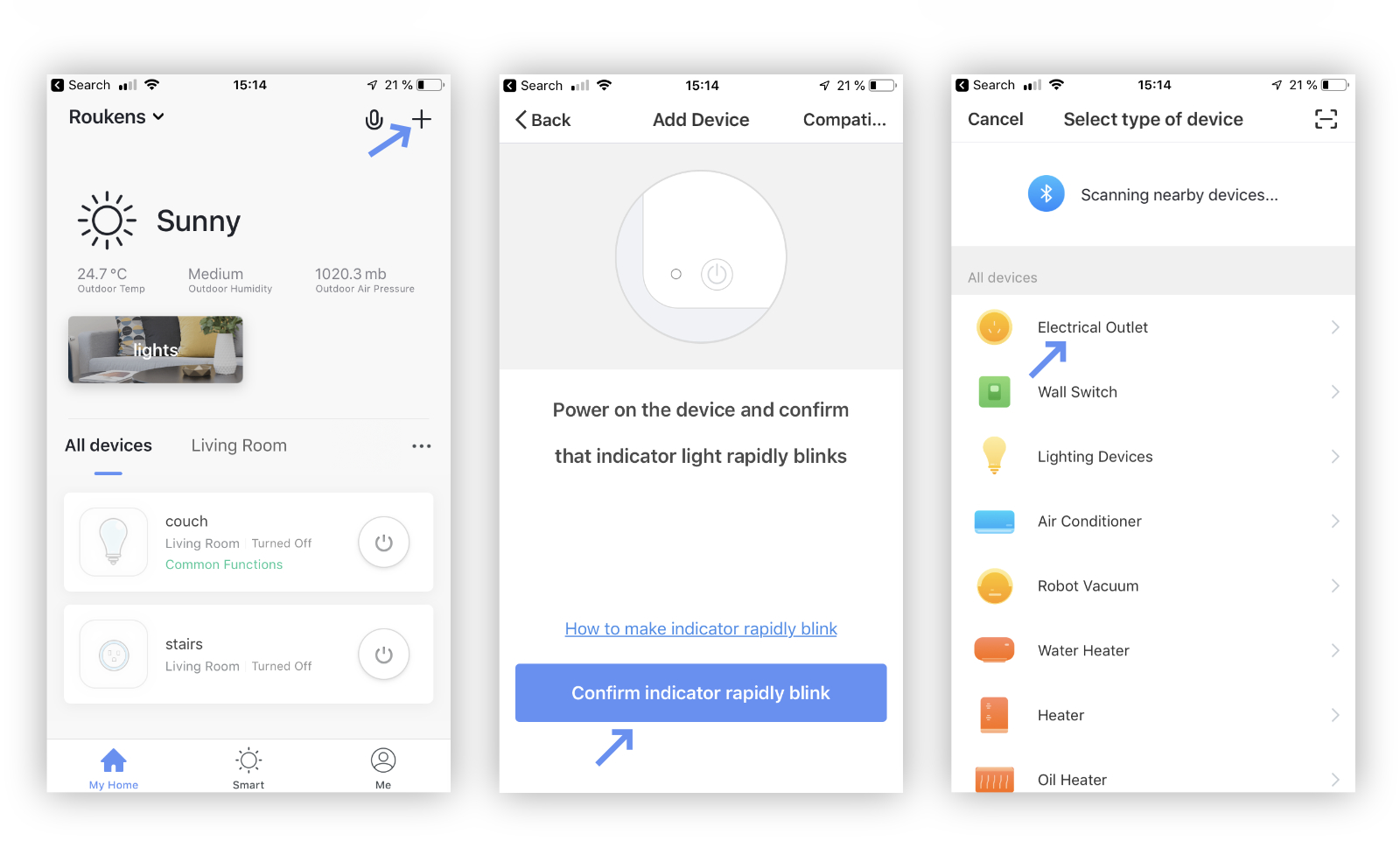 Now it will ask you to put in your wifi password so it can find your smart plug, transfer the wifi SSID and password to it and then connect it to your wifi network. Hit 'OK', and it will start doing that. It took about 20 seconds per smart plug.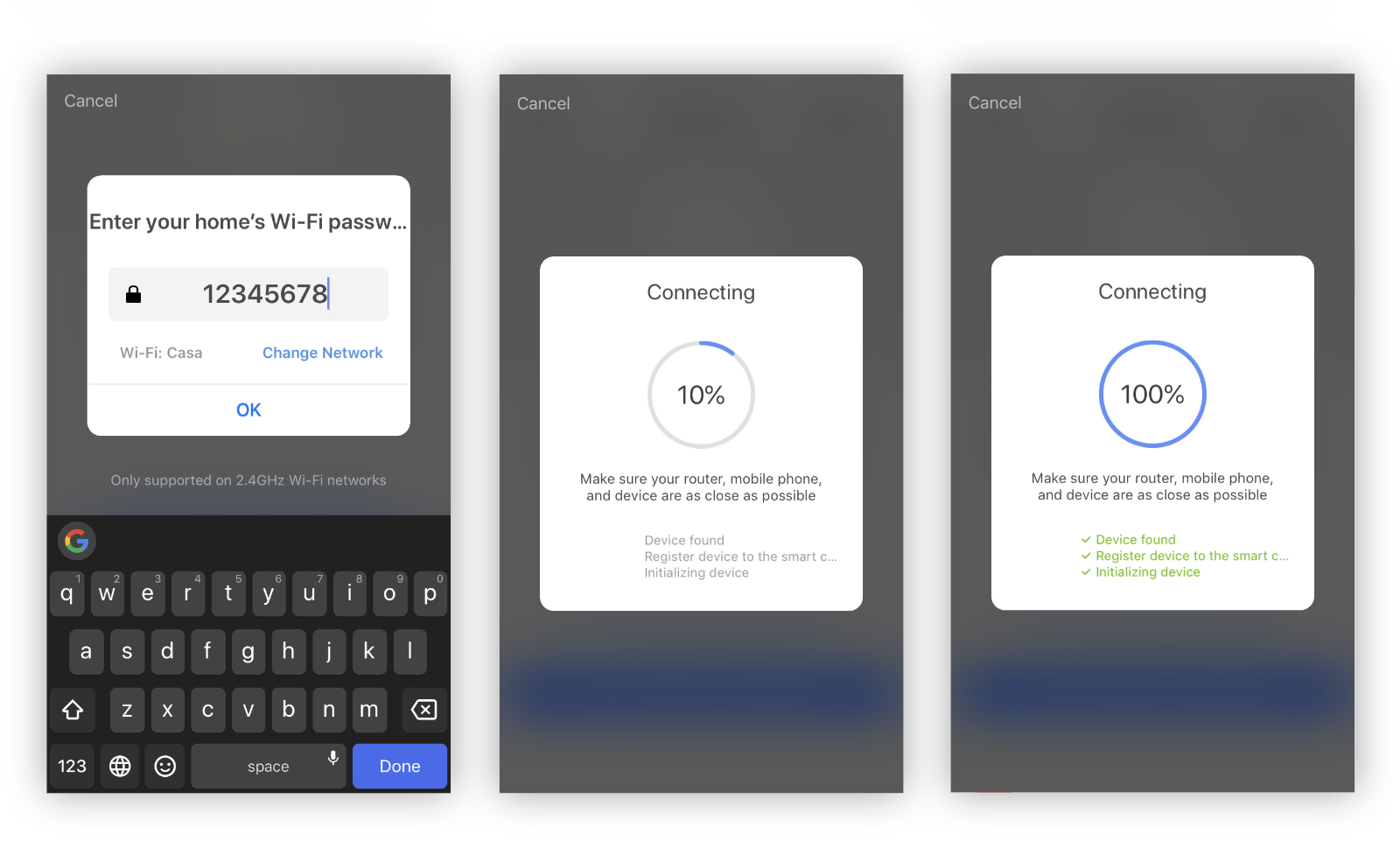 However, as I mentioned earlier, This wouldn't work for me. I spend about 1 hour doing what I described above, and it would not connect the smart plug to my network. Neither would it give me any reason for what was not working during the setup. I ended up fixing this problem after some trial and error by changing my SSID (Casa de Los Sanchez Roukens) and password of one of my 2.4Ghz wifi radios.
Granted my SSID Casa de Los Sanchez Roukens is a bit long, but as WiFi is a standard, the product (the smart plug) should be compatible with anything that is allowed in the WiFi standard in my opinion.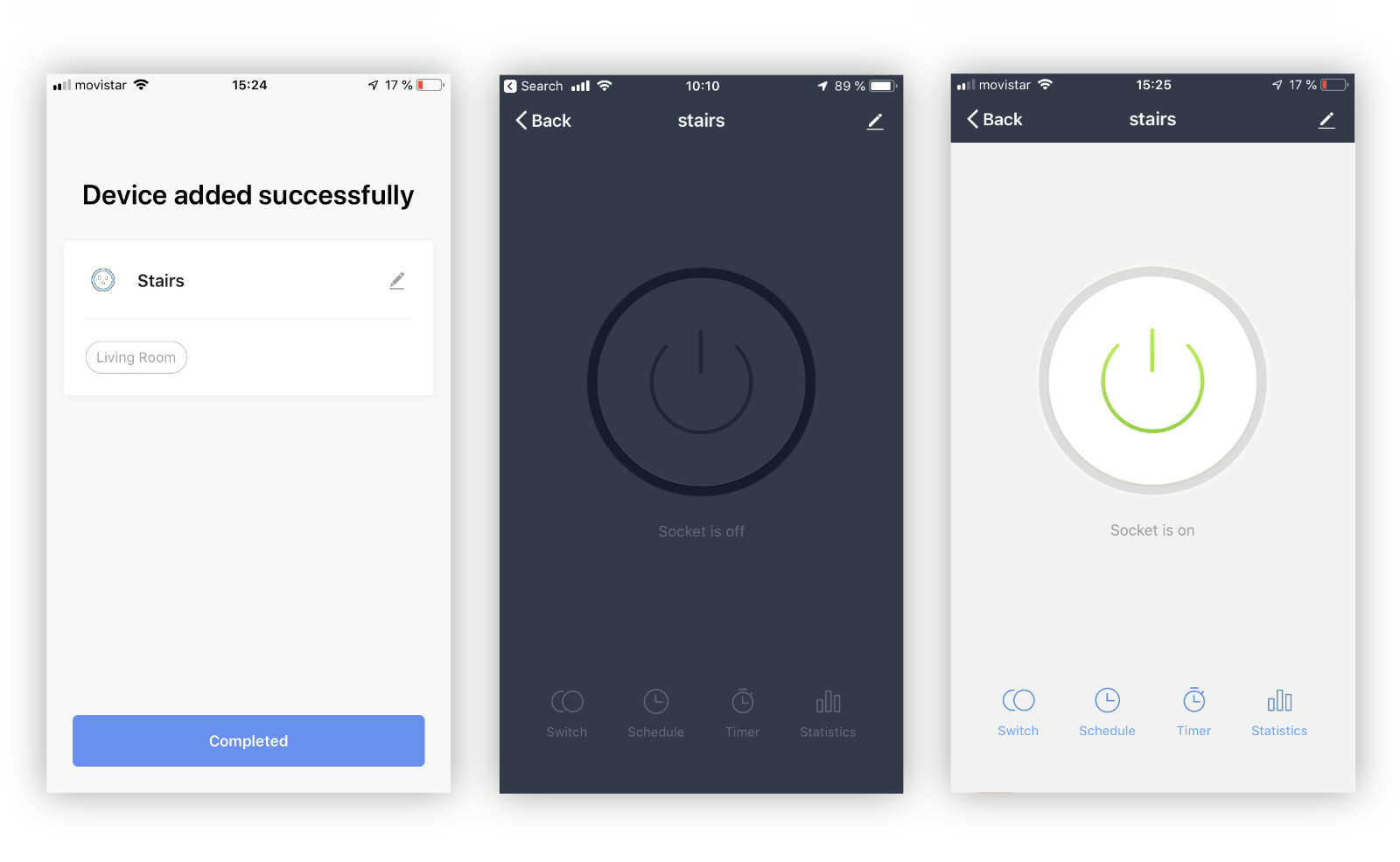 Anyways, now that the smart plug is connected, you can give it a name that it will 'listen' to. You will use the name when talking to google assistant although you can change this name later in the Google Home app as well.
So, at this point I have the two smart plugs on the network, I can see them in the smartlife app and toggle them on and off. The next part was connecting the smartlife app to Google Home, which I cover in the blog post here.
Now I can turn the stair lights on and off quickly by using Google Assistant or Google Home on my phone or via my recently acquired Google Home Mini.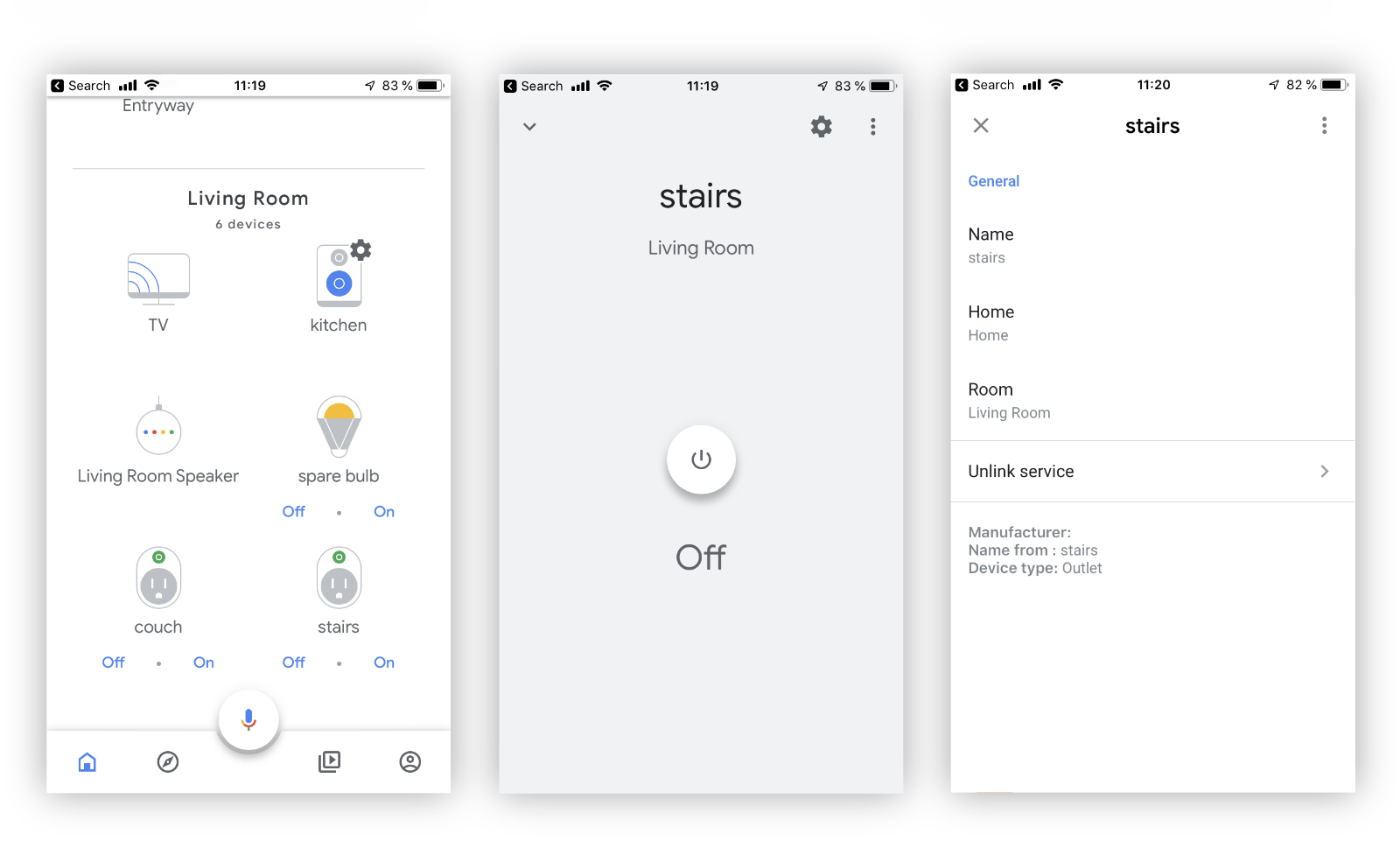 Here's my not very sexy demo video
https://www.youtube.com/watch?v=Q3xg1b8TcVw
Success!
Conclusion
Overall I am happy with how the smart plugs function so far (I have had them about a week). It takes about a second from asking the question to Google Assistant for the lights to turn on. I think this delay is caused by Google Assistant having to contact the smartlife server to toggle the switch. I'm not sure if this is a standard thing yet with home automation, but it might be a downside for some. For me, it is no big deal.
Another feature I would like to see is the ability to set the type of smart device. For example; I have connected the smartplug to some lights, however, if I say the global command 'turn off the lights' it doesn't actually turn the lights off as smartlife/google sees them as plugs, not lights. I have to say 'turn off the stairs' It would be great to be able to set the smart plug to identify itself as a light. It is manageble, as saying 'goodnight' to google will still turn everything off.
I have been very pleased so far with the smartplugs and would recommend them to anyone looking for a cheap way to start automating their house (or coffee machine!😋).