It is something that many pilots have been longing for, for quite some time now. Ever since the removal of DJI's Ground Station app from the AppStore pilots have had to look at other apps like Lichi, Autopilot and others to fill the space DJI left behind. I am of course talking about planning and controlling automatic flights with DJI aircraft.
Today DJI has announced it's new and vastly improves DJI GS Pro, short for DJI Ground Station Pro. As described by DJI;
"GS Pro (also known as Ground Station Pro) is an iPad app designed to control or plan automatic flights for DJI aircraft. Through its clear, concise interface, complex flight missions can be planned with a few taps. GS Pro will then automatically take pictures at pre-set waypoints, providing the accuracy required for precision mapping. A Virtual Fence feature increases safety and ease of use by locking the aircraft's height and speed within a designated area. With these features, GS Pro dramatically increases the efficiency of various industrial applications, including but not limited to, aerial imaging, architecture, precision agriculture, electrical inspections, search and rescue,
safety control, and more."
Let's sum up the features the new GS Pro app has to offer;
Plan and create automated flights.
Two flight modes; Inside mode and scan mode.
Control automated flights.
Automatic image capture at pre-set waypoints.
Image capture at equal time intervals, equal distance intervals.
Custom flight zones a.k.a Virtual Fence.
Parameter adjustments for photo overlap ratio, shooting angle (parallel or vertical to the main flight path), course angle and margin.
3d map POI (Coming soon)
[convertkit form=4930557]
Let's take a closer look
The new GS Pro app features three different mission modes;
Virtual Fence
3dMap Area
Waypoint Route
Virtual Fence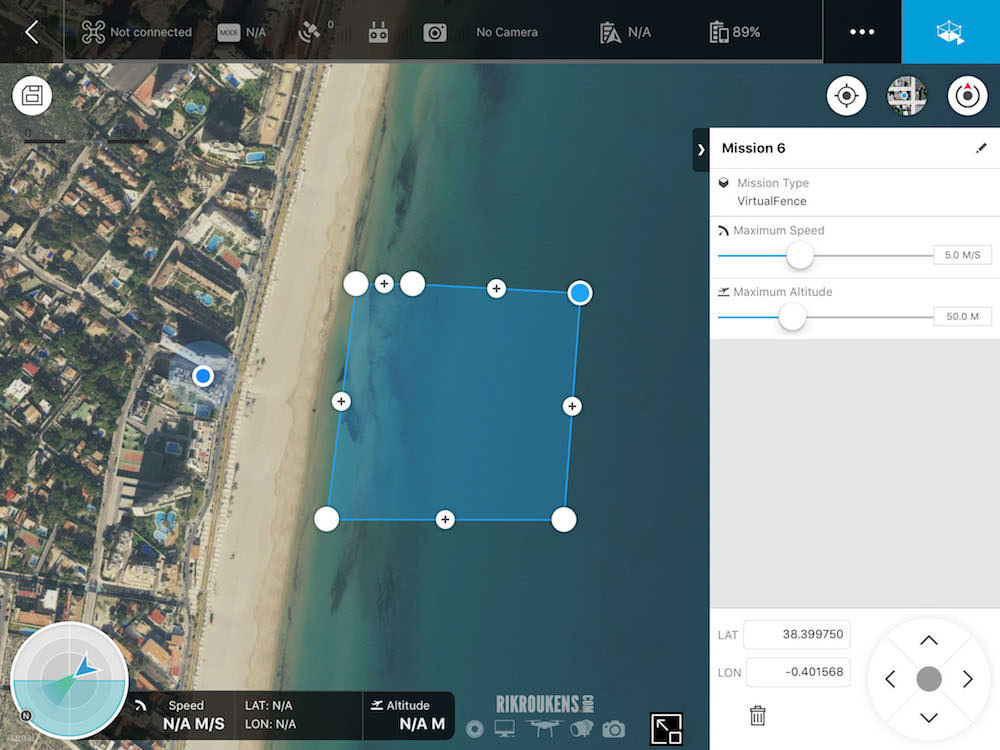 Virtual Fence specifies an area of flight which can be very useful in scenarios where some areas of a site are a no-fly zone or if a mission should happen only in a particular area, as DJI says for example when spraying pesticide on a specific crop.
According to DJI, it is also useful for pilot training situations as the aircraft will brake and hover when it approaches this virtual fence to ensure it stays within the flight area.
The shape of the virtual fence is fully customizable, not only in the surface area but also in height. It can be created during mission preparation or by flying around the surface area you want to mark as the boundaries for your virtual fence. The maximum speed and altitude allowed by the aircraft in this area can also be set ensuring safe operation in dangerous areas.
3dMap Area
3dMap Area can be used for mapping vast areas of terrain automatically; this means you can set an area you want to be mapped and GS Pro will automatically select the optimal path for the drone to make sure it covers the ground as efficiently as possible.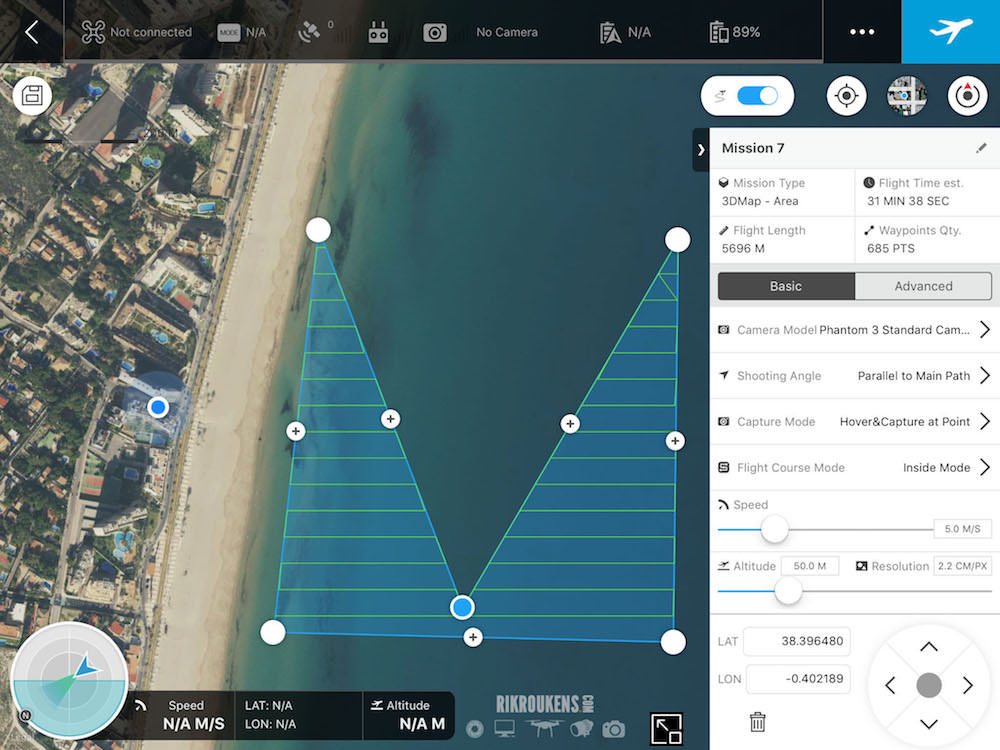 It has two modes to do this called inside mode and scan mode.
As you can see above, (the green line represents the aircraft's predicted path) when using inside mode the drone will stay inside the shape that has been drawn as the shape acts as a virtual fence. The aircraft is not allowed outside of this shape making it the perfect mode if you need to avoid certain areas on location.
When using scan mode the aircraft takes the fastest route to accomplish its goal, this means it can go outside of the drawn box if this allows for faster capture. In other words, the shape that has been drawn does not act like a virtual fence as you can see below. (the green like represents the aircraft's predicted path)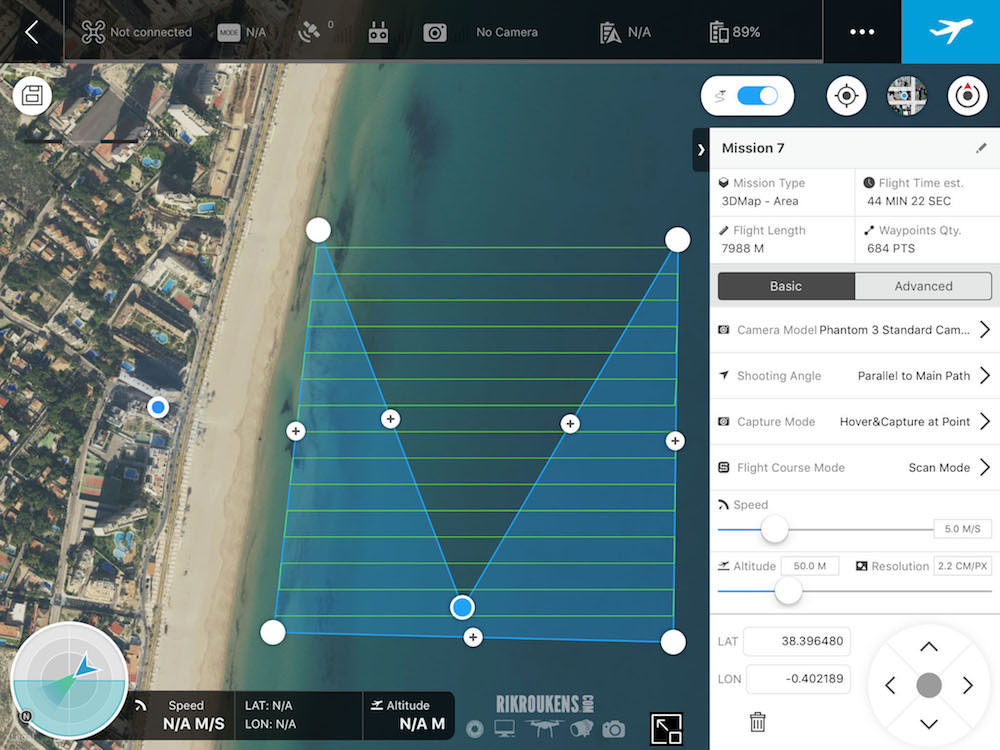 **Waypoint Route
**Up to 99 waypoints can be set within a single course, and each waypoint can be customised, for example by defining the action that happens at the waypoint. After you've set the waypoints up all you need to do is tap to start flying.
Within tap and go you can change the following parameters at each waypoint; Altitude, aircraft heading, aircraft rotation direction (clockwise or counter-clockwise) and Gimbal pitch angle.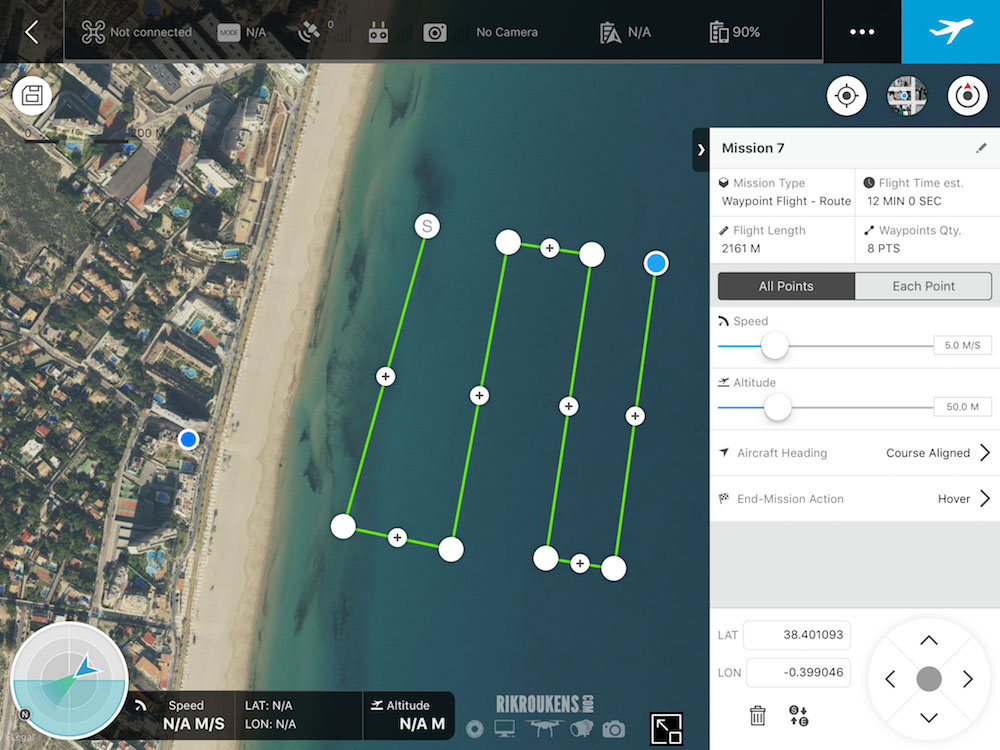 Each of these waypoints can have up to 15 consecutive actions, these include Aircraft rotation, gimbal pitch, start recording, stop recording, photo capture and hover.
Luckily DJI has thought about safely returning the aircraft home after it has flown a mission, you can set specific actions such as Return To Home altitude, let it hover so you can bring it back yourself or have it land on the spot.
Another feature DJI is showcasing that is supposedly coming soon is 3d map POI. It can generate detailed maps of tall structures using 3D Map POI. Choose the subject and set a distance between it and the aircraft. GS Pro will then provide relevant parameters including speed and time required to circuit the structure. Images captured can be exported into 3D reconstruction software to create accurate 3D models of the entire building.
DJI markets the GS Pro app as a tool for Industrial applications, such as Architecture, Precision Agriculture, Electronic Inspections, Aerial Imaging, Safety Control and S&R (Search and Rescue).
The app is compatible with the following Aircraft and controllers;
Phantom Series.
Inspire Series.
Matrice Series.
N3 Flight Controller.
A3/A3P Flight Controller.
Zenmuse camera series.
Which currently includes the following aircraft:
Phantom 3 Standard/4K/Advanced/Professional
Phantom 4
Inspire 1
Matrice 100/600/600 Pro
Mavic Pro
A3, N3
Both the Phantom 4 Pro and the Inspire 2 are not supported at this time, but DJI says these will follow soon.
Compatible cameras:
Phantom 3 Standard/4K/Advanced/Professional
Phantom 4/Pro
Zenmuse X3, X5, X5R, and Z3.
The X4S and X5S are not supported yet, likely because they have not been released yet.
Currently GS Pro is only available on Ipad with no word if it will be released for Android tablets in the future.
My thoughts;
I think it's great DJI has finally released worthy ground station software for the current generation of DJI drones. It's safe to say there are a lot of different use cases for software like this in agriculture, S&R, Mapping and other areas. I'm interested to see how people will be using the software (especially the people that have been asking for it for so long) and can't wait to use it myself for various fun projects.
GS Pro can be downloaded in the Apple AppStore here.