It has finally been announced; The GoPro Karma. In the words of CEO & Founder Nick Woodman "not just a drone, but so much more" it combines the also newly released GoPro HERO5 Black with either a handheld gimbal or the drone.
https://www.youtube.com/embed/CjNjcrQZtd8
It's GoPro's first official push into the drone sphere and with a price of $799.- without, and $999.- or $****1099.- with a fresh new Session or HERO5 camera respectively it's perfectly positioned to take on DJI's Phantom series. What's amazing about this is that it comes with the handgrip included for no extra charge.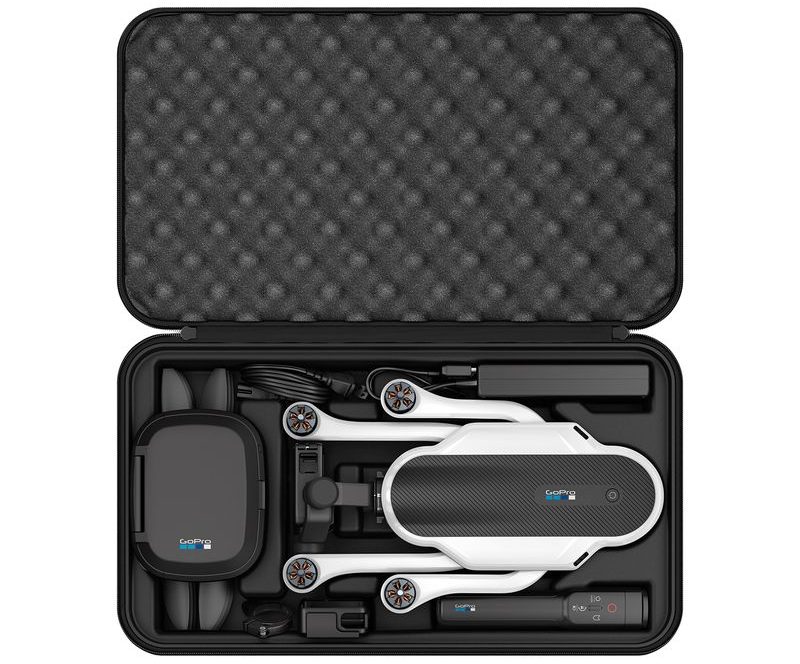 The Karma has a foldable design, much like the GDU BYRD and the soon to be announced DJI Mavric. It has it's gimbal in front of the propellers which GoPro says will make sure the propellers are almost never in view.
It features four, what GoPro calls "Auto shot paths" modes; Dronie, Cable cam, Reveal, Orbit. These can be compared to DJI's intelligent flight modes or 3DR's smart shots.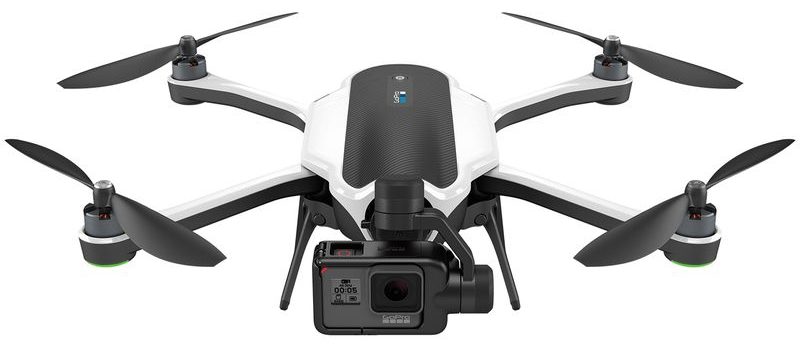 Let's take a look at the specs that come with the KARMA drone;
**
Karma**
Maximum Speed 35 mph (15 m/s)
Maximum Distance 3280ft (1000m)
Maximum Flight Altitude 14,500ft (4,500m)
Maximum Wind Resistance 22mph (10m/s)
Operating Frequency 2.4GHz
Dimensions (Opened/No Propellers) Length: 12in (303mm)
Width: 16.2in (411mm)
Height: 4.6in (117mm)
Dimensions (Folded/Transport) Length: 14.4in (365.2mm)
Width: 8.8in (224.3mm)
Height: 3.5in (89.9mm)
Propeller Length 10in (25.4cm)
Weight 35.5oz (1006g)
**Battery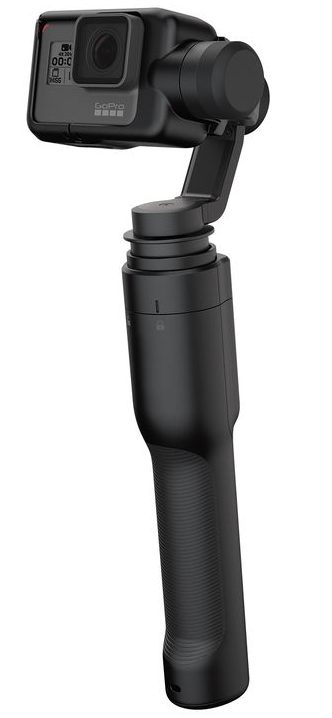 **
Dimensions Length: 8in (201.3mm)
Width: 3.6in (91.62mm)
Height: 1.75in (42.7mm)
Weight 19.3oz (545g)
Flight Time Up to 20 minutes
Rating 14.8V 5100mAH (75.4Wh)
Battery Type Li-Po
Gimbal
Range of motion -90° to 0° (down/up)
Camera Compatibility HERO5 Black, HERO5 Session, HERO4 Black/Silver
Weight 8oz (230g)
Number of Axes 3
Handgrip
Dimensions Length: 8in (205mm)
Width: 1.7in (43mm)
Height: 1.7in (43mm)
Battery Life 1.75 hours
Weight 8.62oz (244.6g)
My Thoughts
Given that GoPro is clearly aiming this at the consumer, looking at the thumbstick controls and easy setup, the initial view looks like it can be a very compelling package for people that have been wanting to buy a drone for a while. Especially given the fact that it is backwards compatible with a GoPro HERO 4 (Silver & Black) and that it comes with a handgrip to mount the gimbal on for no extra charge. $799.- is an extremely competitive price point and even the 1099.- package with GoPro HERO 5 black is less than DJI's Phantom 4 which has no detachable gimbal & camera.
Now for professionals I'm not sure how the GoPro Karma is going to fit in. It is not the market GoPro is aiming for, but we'll have to wait for the first reviews to see if it can hold up to solutions like Yuneec's Typhoon H and DJI's Phantom 4. At least it wins the battle of portability!