Healthy living, healthy eating, working out, it's safe to say that everything healthy is all the rage nowadays, whether it's fitness, food or otherwise. About a year ago I found HealthyDrones.com while trying to find out how I could get more info on my drone. No, Healthydrones has absolutely nothing to do with being fit and healthy.. Unless we are talking about our drone!
What HealthyDrones.com does has everything to do with the health of your drone. Making sure you know the state your drone is in, what problems are occurring, where they started, what the health of your batteries is and much much more. I promise you, you will create an account and start uploading your flight logs.
Before we start. I have partnered up with HealthyDrones to giveaway 1 year of HD 360 Pro (value of $180.-) to one lucky reader. Next to that we are giving ALL rikroukens.com readers a 10% discount on HealthyDrones.com! Enter your email below to enter the giveaway and receive a 10% discount code. Enjoy!
[convertkit form=4930557]
Here's what we'll look into today;
What is HealthyDrones.com and what does it do?
Why would you use Healthydrones?
Three ways to upload your flight logs.
My logs.
Flight analysis.
Batteries.
Drones.
Maintenance.
Reports
Conclusion
Let's get to it;
1. What is healthydrones.com and what does it do?
As you might have figured out by now, healthydrones is a tool that amateur and professional drone pilots can use to analyse their flight data, or as founder Eran Steiner says himself;
"We built this site to provide crash-prevention information and to offer a much broader experience than a simple logbook. With our devices flying up in the air, the stakes are high, and we all want to keep it as safe as possible."
And that is exactly what Healthydrones does; they make the information that is hidden inside your flight logs easily accessible and easily readable so you can concentrate on what matters most; finding out what notification popped up for a split second 07:34 minutes into your flight or check what the health of your battery is.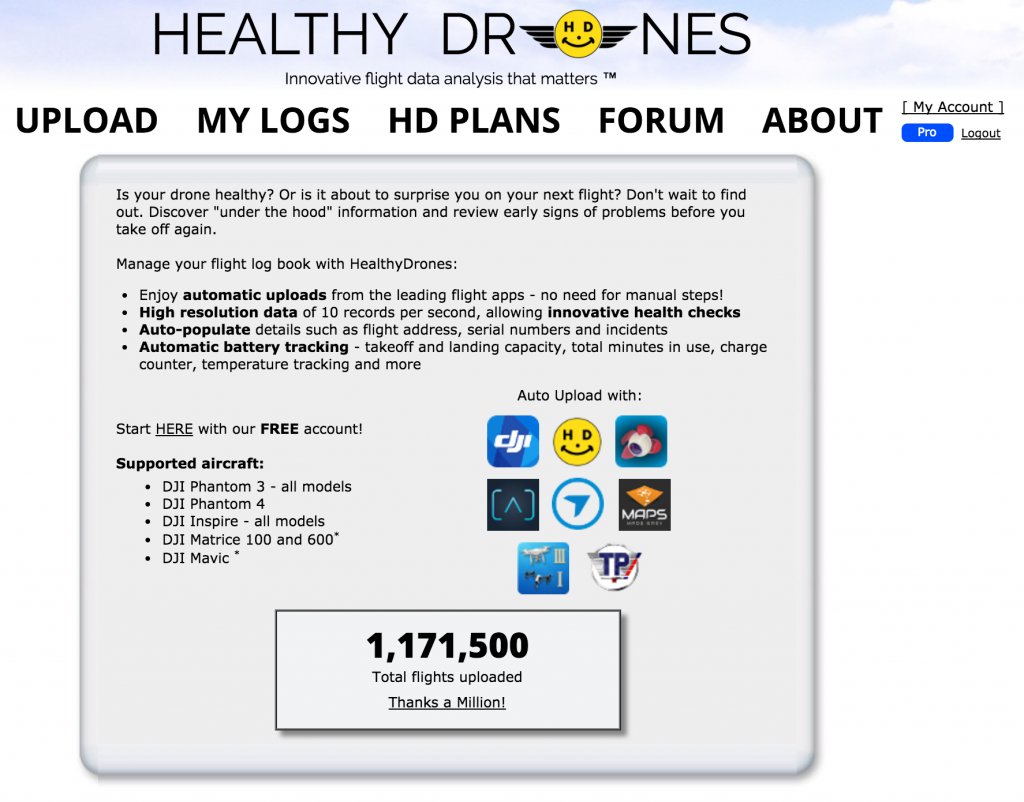 2. Why would you use Healthydrones?
This is a question a lot of pilots will be asking. Doesn't the 'flight log' in DJI's app DJI Go provide all the information that is available? Surprisingly it doesn't. The amount of flight data healthydrones manages to extract from the flight logs is truly astonishing. A quick scan of the welcome screen when you open the tool is just a tiny insight of the vast amount of data;
Total Flights
Total Photos
Total Videos
Total Air Time
Total Log Time
Total Kilometrage (all flights)
Longest Flight Time
Hottest Battery Temp
Farthest Home Distance
Longest Kilometrage
Highest Altitude
Fastest speed
And that's just the welcome screen!
So why would you use it? Well, The biggest takeaway of Healthydrones is that it provides you with amazing insights about your drone. It can help you prevent damage by showing early warnings, it's a great tool for professionals to use when debriefing flights and is perfect for providing easily trackable maintenance and servicing requirements. Furthermore, it can create reports pilots might need for FAA or CAA inspection, and it is also great for keeping track of your batteries. It can even calculate the wind speed at a given time during the flight by measuring the angle of the drone, the speed of the drone and status of the remote control! Crazy right!?
Who is it for?
In my opinion, every pilot that takes his flying somewhat serious and is invested in keeping his drone up in the air should be using Healthydrones as a tool to enable safe flying.
Luckily Healthydrones has a free plan which is great for pilots who want to try out the tool before committing to a monthly subscription to enable the extra features.
Together with HealthyDrones.com I'm giving away 1 year of "HD 360 Pro" (a $180.- value!) to 1 lucky reader!
[convertkit form=4930557]
Currently, the following drones are supported;
DJI Phantom 3 Standard
DJI Phantom 3 Advanced
DJI Phantom 3 Professional
DJI Inspire 1
DJI Inspire 1 Pro
DJI Matrice 100
DJI Phantom 4
While HealthyDrones only supports DJI aircraft today, they are actively looking to add additional drone manufacturers to their list of supported aircraft in the near future.
3. Three ways to upload your flight logs.
HealhyDrones is all about flight information, and it gets this information through your DJI GO flight logs. Before, You were required to manually upload the flight logs by stripping them off the DJI GO app in iTunes on your computer, something you can still do. But recently Healthydrones has added two new ways of uploading flight logs to their website.
Enter HD Sync.
HD Sync is an app (IOS & Android) that makes uploading flight logs from your iPhone, iPad or Android device easy and accessible. On iPhone,  you need to enter your DJI Go credentials and a special key which you create on the website under account, and you are good to go. Now you can sync your flights whenever you are back home after a day out.
When using Android it's even simpler, all you need is your special key from the HealthyDrones website and your are good to go. Now every time your tablet gets connected to wifi uploading will start automatically.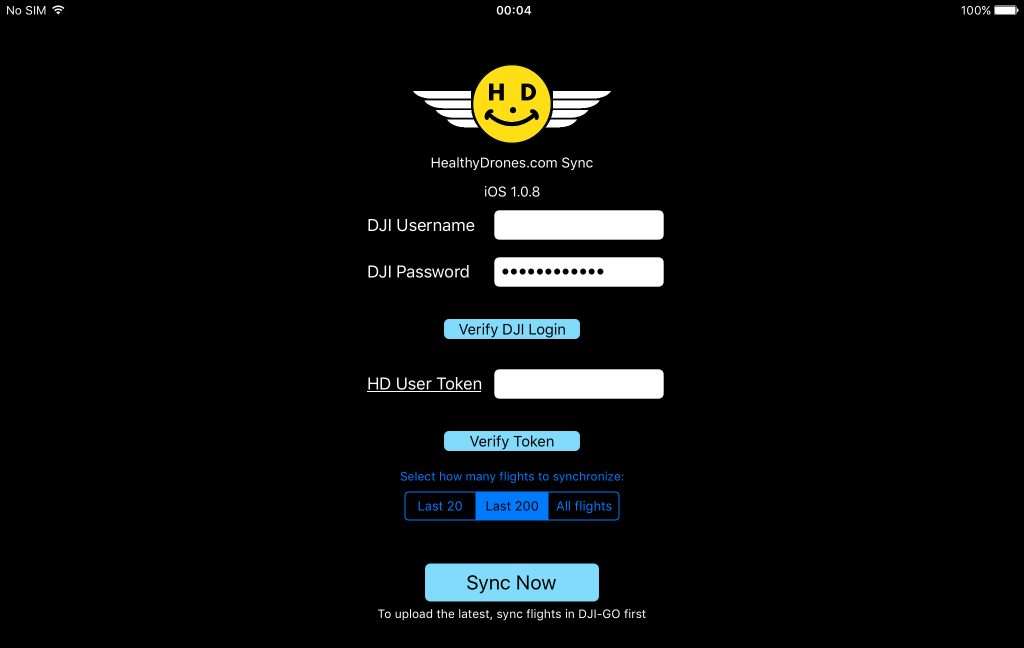 And lastly, if you are a user of apps like Litchi, AutoPilot, MapPilot, UltimateFlight or TopPilot you are in for a treat! These apps have the flight log sync build into their apps which make it even more seamless.
4. My logs
My logs is the page you land on when opening the website; this is where you can find the overview of all your flights with averages. Like total flights, distances and fastest speed.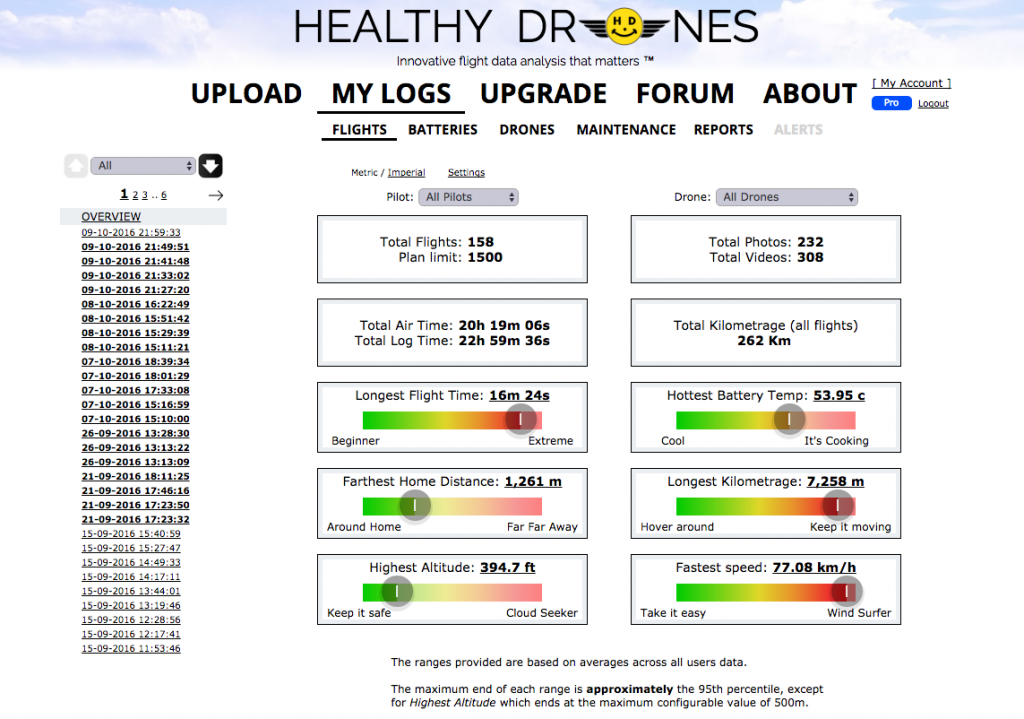 Under my logs, you also find all the other sections that are available on healthydrones. Flights, Batteries, Drones, Maintenance and Reports. We'll get into these a little later.
On the right side, you have all your flights that you have uploaded and that are available for you.
5. Flight Analysis
When selecting a flight you are straight away presented with a wealth of information about your selected flight.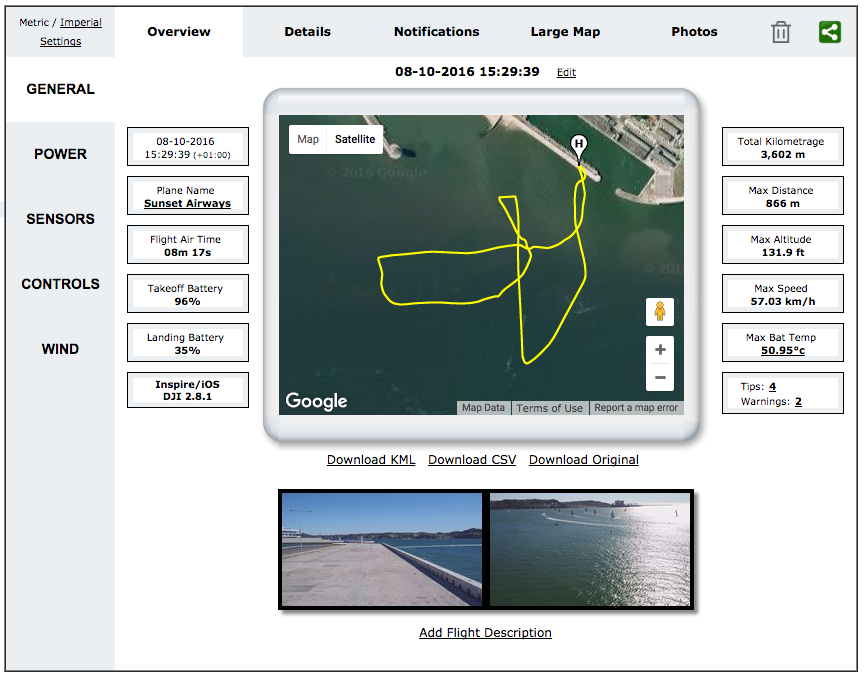 From here, you can navigate into what notifications you received at each point in your flight, you can see how your battery performed during the flight, what the wind speed was (including gusts!), how your GPS and compass were handling during the flight and much more.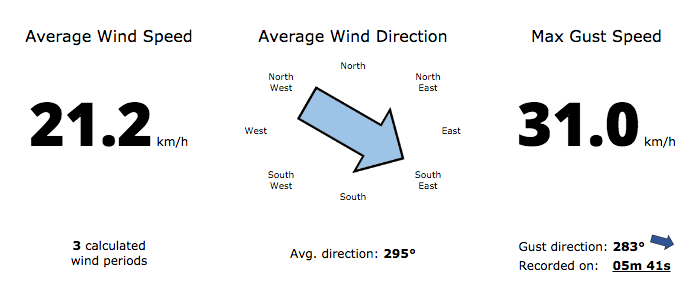 On this particular flight, I was flying battery #2. Although I couldn't see anything during the flight, it looks like this battery is having some cell voltage deviation problems. When cell voltage deviation occurs the cells in the batteries differ in voltage. It can be a sign the cell is going bad which in turn impacts the efficiency (flight time) of the battery or worse, it can lead to your drone falling out of the sky.


In this case, the deviations are quite big as you see above. I'll go into this topic more in a separate article soon.
6. Batteries
Next on the list is the batteries page, where all the battery information is being displayed. When selecting a battery (let's use battery #2 again) you get an overview of all the information corresponding to it. As well as usage, flight history (what flights was this battery used on) and trends.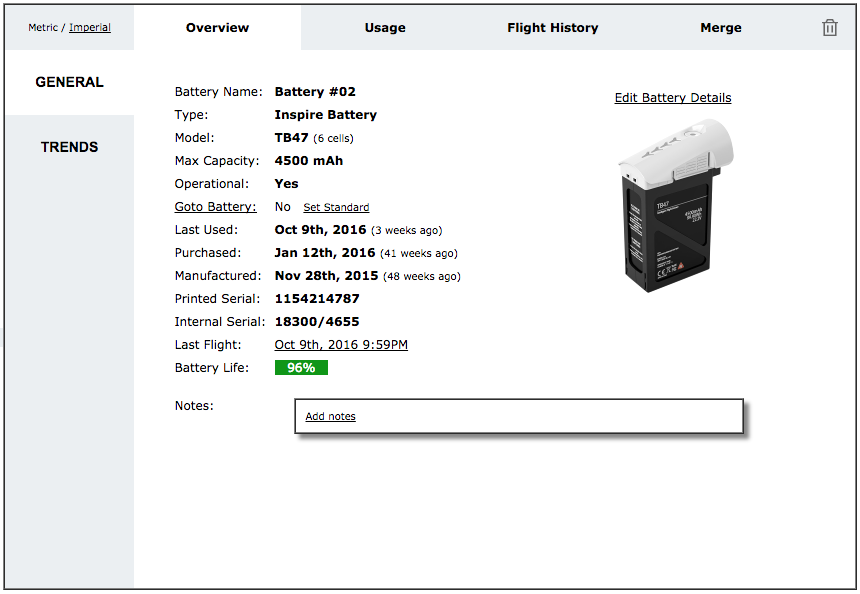 Trends is where it gets interesting; here you can analyse how your battery is doing over time. This is where you can see when your battery is wearing off and where certain issues started.
Trends for battery health, efficiency, deviation and temperature are available.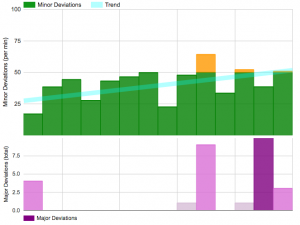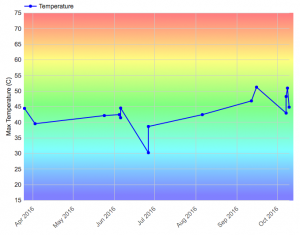 7. Drones
The drones section gives you a nice overview of all the drones you have in your inventory, along with stats like total flights, serial numbers, last flight among others.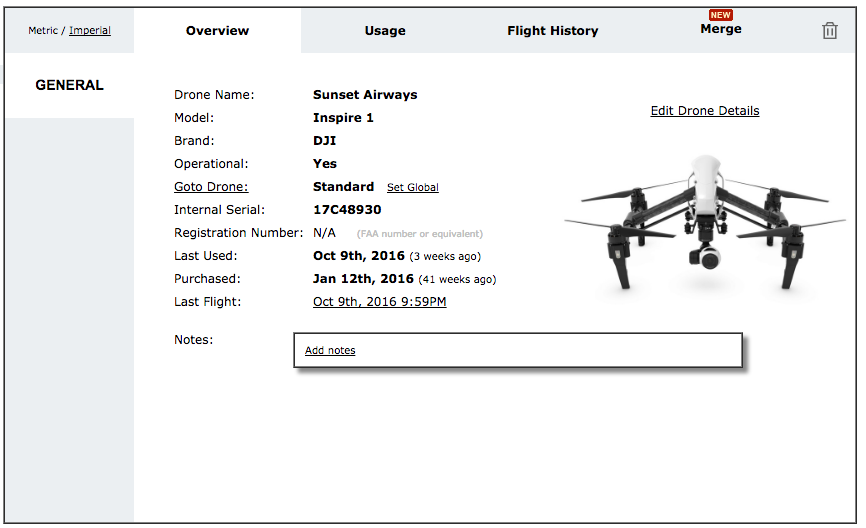 [convertkit form=4930557]
8. Maintenance
This is another great section to have. As healthydrones keeps track of all your flights and data, it is the perfect tool to keep track of your maintenance schedule. It tells you when you have upcoming maintenance, and when you do the maintenance you can write down notes on your findings, giving your a great track record of everything you change or service on your drone.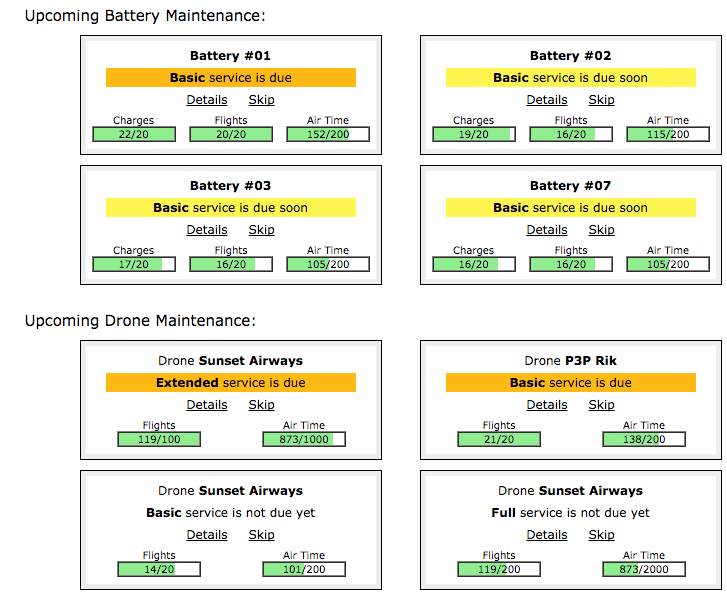 It uses a combination of total flights, Airtime and with batteries also the total amount of charges to tell you when your next service is due. It has basic, extended and full services for your airframe and basic and full services for your batteries. Healthydrones also has a page where they explain what you need to do when service is due, which is great.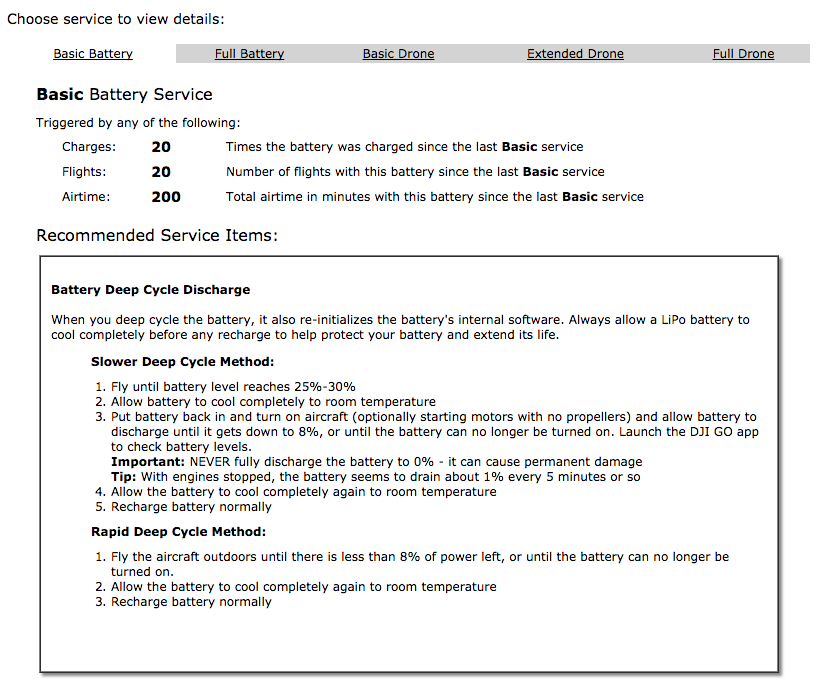 9. Reports
One feature healthydrones sells in their HD 360 Pro subscription is reports. In it's simplest form, reports are automated online flight logs. (as you know I'm a big fan of keeping an analog flight log which you can read about here + download of my flight log template!)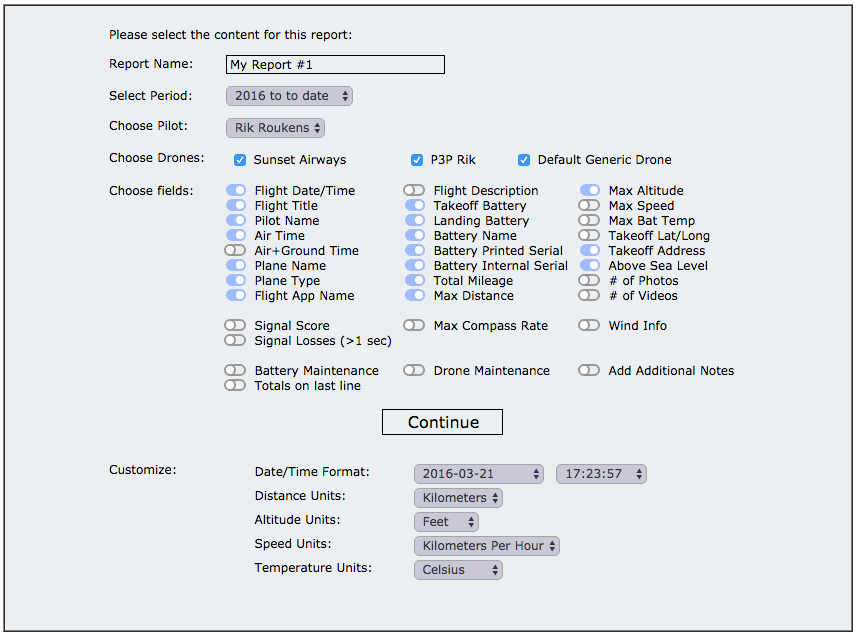 However, these reports are great; you can set exactly what information you want in your reports, from take-off time to take-off address, it's all there. This is a great way of keeping month by month (or year by year) logs of all your flights where you can prove you've been flying.
These could be great for CAA or FAA audits, showing you are a competent pilot at an advanced PFAW training or even for potential clients who you can show your flying experience (next to showing your work of course).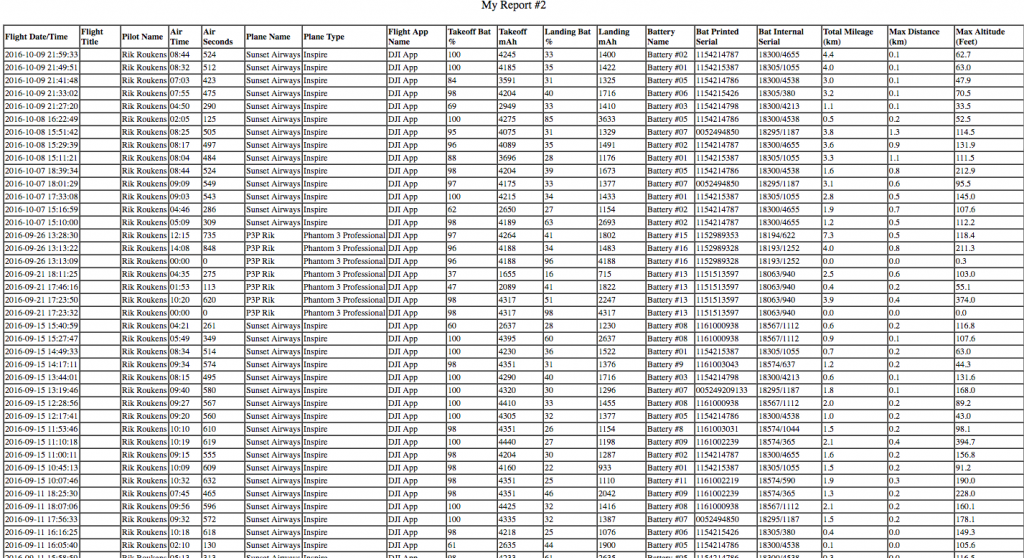 10. Conclusion
Healthydrones is an incredibly rich resource for people that have DJI drones, the big downside here is of course that it only works with one brand. It is not so much HealthyDrones' fault as it is the fault of the manufacturers who don't include exportable flight logs in their apps. Aside from this Healthydrones is a service that in my opinion, every DJI pilot should be using. It helps you understand your drone's health better and can give you critical information that can seriously help keep your drone in the air. Ultimately that's all we want at the end of the day.
Healthydrones can be used for free by any pilot. Upgrading to a paid account gives you a variety of different features such as more batteries, multiple pilots and reports among other things. Subscriptions start at $2.99 p/m for the light version, $6.99 p/m for the gold option and $14.99 p/m for a pro account.