Today I'll be reviewing something slightly different. This is a very analog product in a digital world. Fieldnotes created together with Tested.com these flight log Fieldnotes after Tested's Adam Savage posted a video showing he had made its own flight logs out of fieldnotes signature similarly named fieldnotes. After Fieldnotes saw the video they reached out to Tested.com to make this product a reality.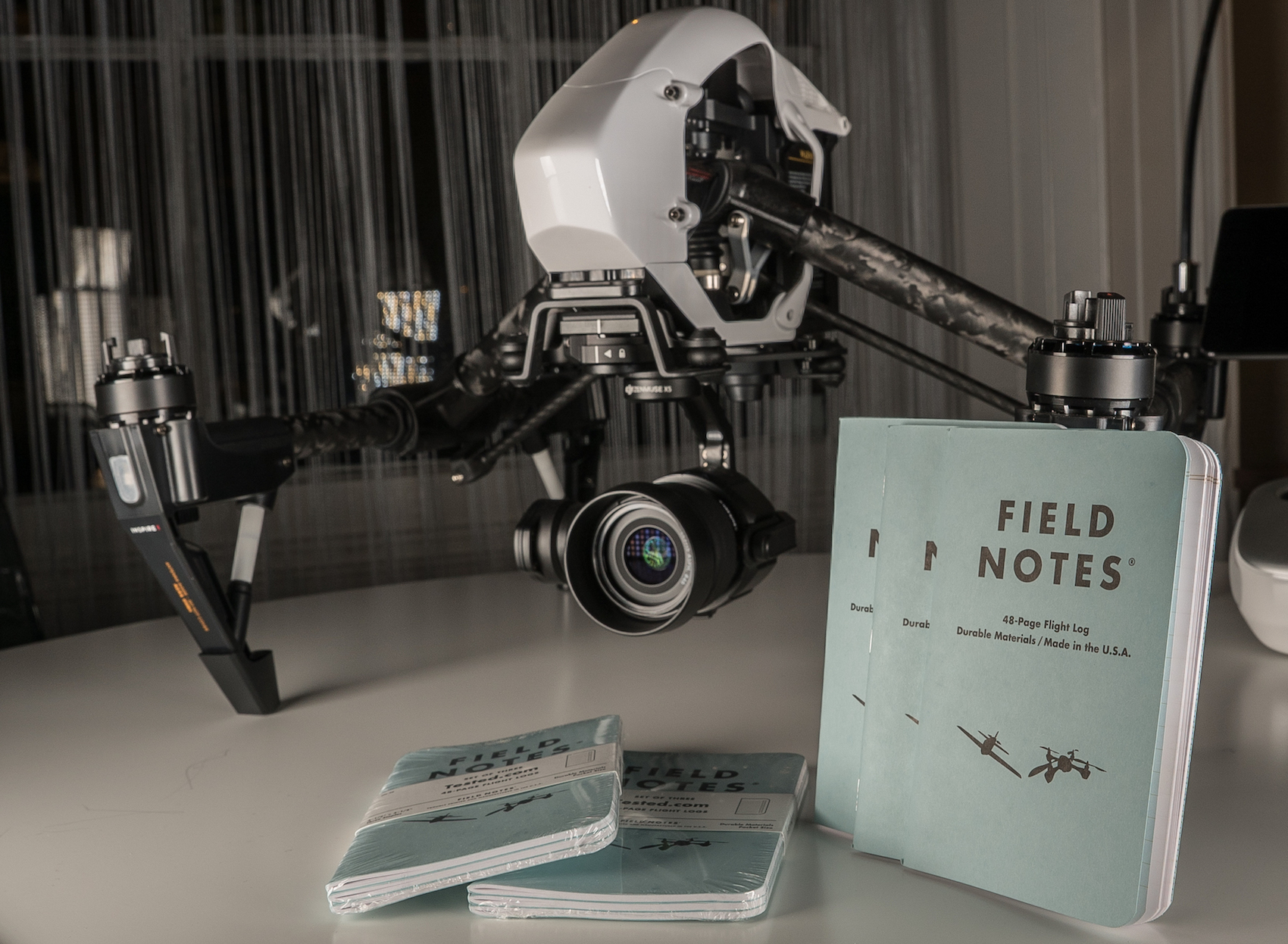 Want a chance to win one of three sets of tested.com flight notes? Enter your email below for a chance to win 🙂
[convertkit form=4850291]
Before we dive into why we would actually need a product like this in our dronebag lets see who Fieldnotes and tested actually are, as described by themselves;
Fieldnotes
"INSPIRED BY the vanishing subgenre of agricultural memo books, ornate pocket ledgers and the simple, unassuming beauty of a well-crafted grocery list, the Draplin Design Company of Portland, Oregon in conjunction with Coudal Partners of Chicago, Illinois bring you "FIELD NOTES" in hopes of offering, "An honest memo book, worth fillin' up with GOOD INFORMATION."

Tested.com
*"The short, pithy answer is: We'll cover anything that's awesome. The longer answer is that we have many interests, ranging from breakthroughs in science, amazing tales of exploration, and discoveries in nature to emerging technologies and new consumer products that promise to change our everyday lives. Tested is the place where we'll explore those topics in depth, asking the hows and the whys about the things that excite us the most. *The number one rule of Tested is simple. We want to make Tested the site that we'd be most interested in reading."
In other words, two companies with a completely different background, but unsurprisingly, who doesn't use Fieldnotes nowadays? I certainly have a stack of them in my house!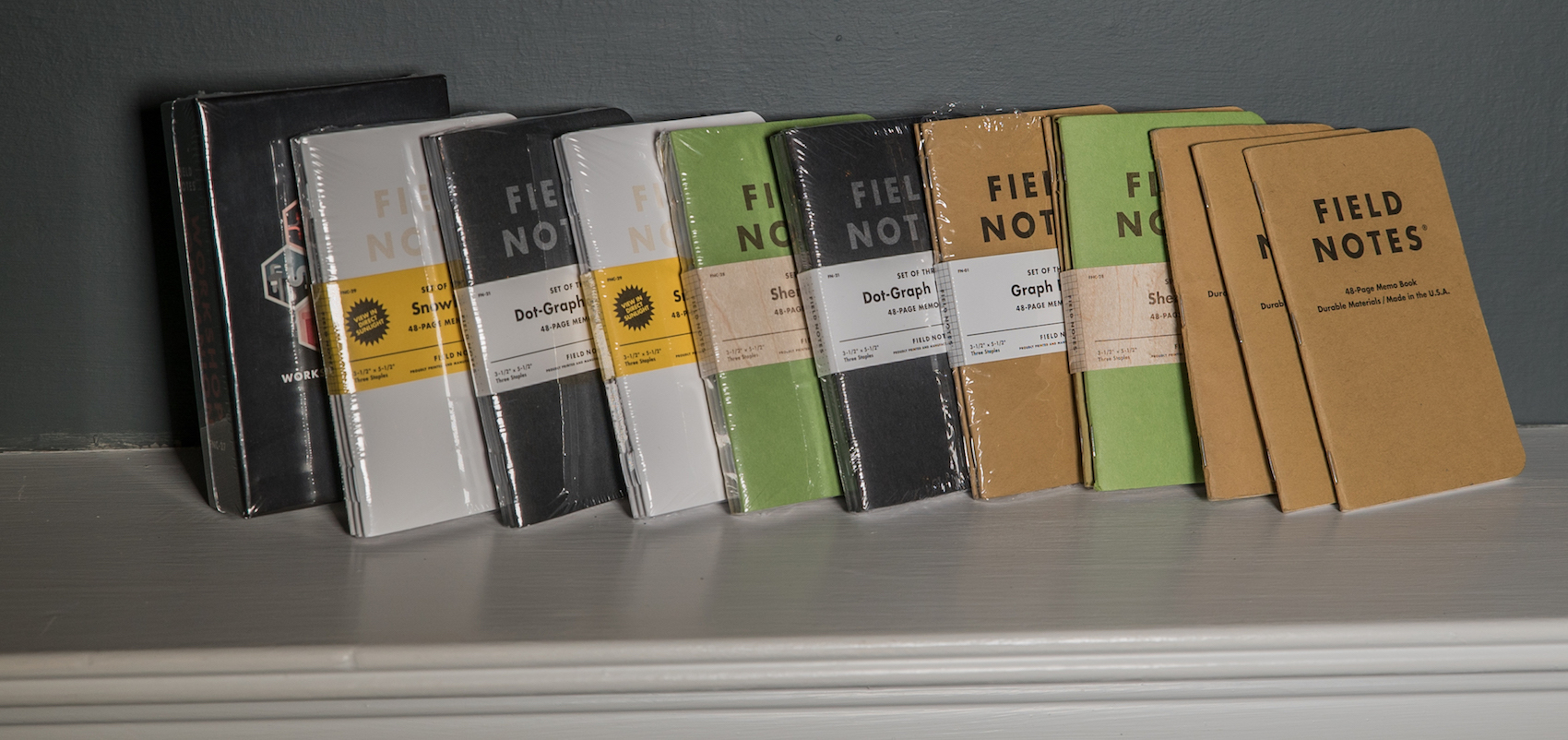 As you can tell I am a big fan of fieldnotes and use them for just about anything. Work, travel, vacation, utilities, etc. Naturally I was very excited when Tested.com & Fieldnotes announced the launch of the flight logs early on December and I ordered them straight away.
**Why would you buy these? **
The main question a lot of people will have (especially DJI pilots) is "why would you buy these? Everything gets saved to the tablet or phone app. Or if that is not the case, why would you want to "Log" your flights, it just seems tedious…
For all those people, you are completely wrong. Yes, information about your flights gets saved to your iPhone or android device, but the importance of manual flight logging is still there.
Keeping track of your flights and having to write them down helps you concentrate on the flight. You need to take the time (not a lot) to check the time, wind speed, location, etc. before you fly, this helps you identify anomalies before you take off. Physically having to check everything and writing it down is an amazing step to put your head in the game so to speak.
You have a personal record of your different crafts in one place, which is another major benefit if you fly different kinds of quadcopters or maybe even hexacopters. This way you can always trace back the steps should there ever be any disputes or other discrepancies, for example if anyone accuses you off flying in  a place you were not. It adds credibility to your story because you are a responsible pilot that always registers his flights.
More than enough reasons to take a serious look at these books.
What does it come with?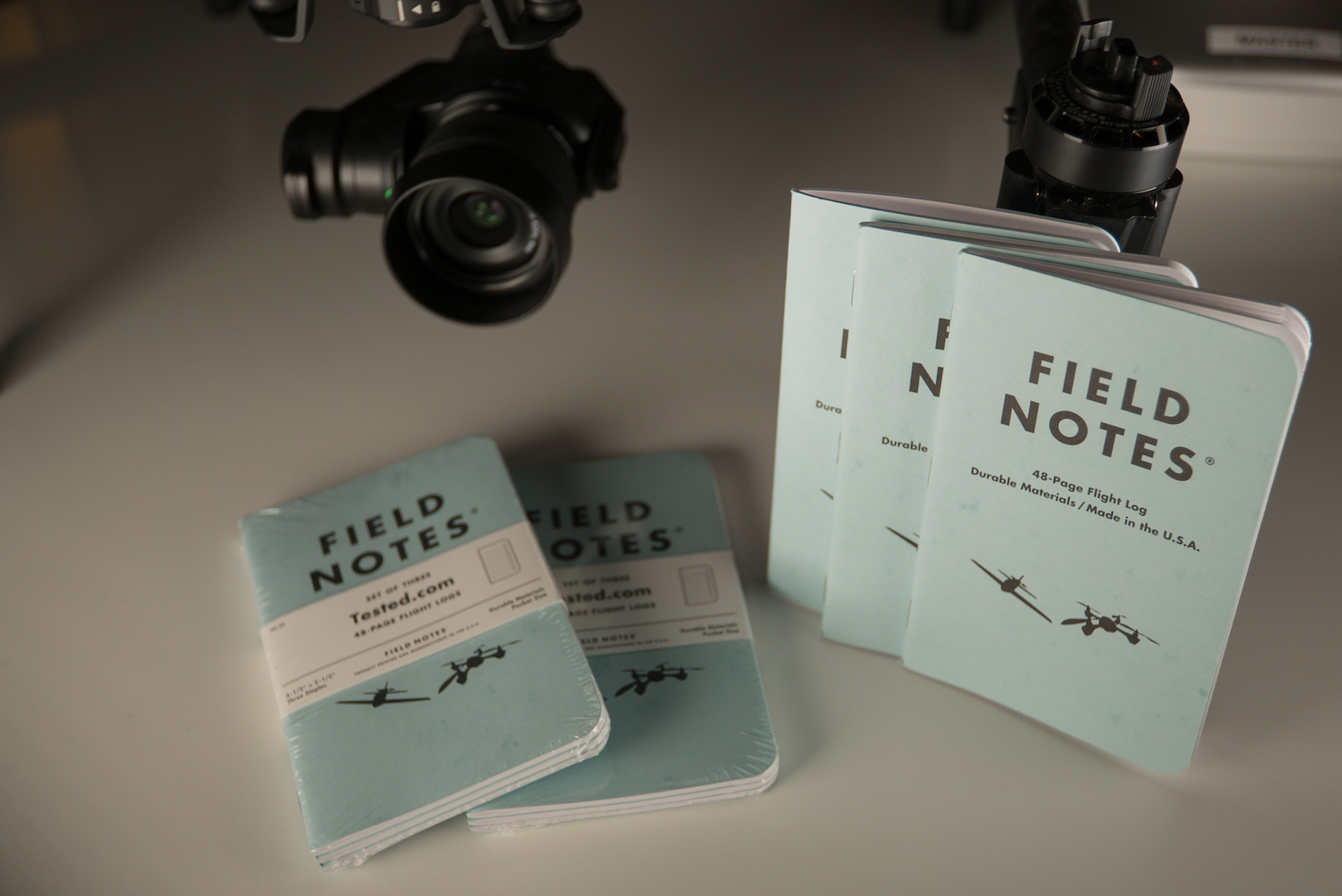 In the beginning of December when I first heard about the launch of these Fieldnotes I decided to buy three packs containing 3×3 fieldnotes. To my surprise when they arrived Fieldnotes had put in a free pack of 3x black fieldnotes. Now I don't know if this is standard or if it was due to the first day they were available, but it was a pleasant surprise.
They come packaged per 3 fieldnote books so buying one pack will get you three Flight log books that can each take 23 flight log entries. So with one pack you have enough entries to last 69 flights! The outside of the Fieldnotes are a light blue with some sort of very vague darker blue cloud-like spots, hard to explain but they look nice!
Layout
The layout of the fieldnote flight log is surprisingly well thought out. You can definitely tell they did a good job collaborating with tested.com to make sure nothing is forgotten.
It starts out with the Fieldnotes standard inside of the cover page where you can enter the following info;
This field notes memo book is property of
Operator notes
For internal records - Start date & location (memo book)
Completion date & location (memo book)
In the event of misplacement - Email address
Hence, there is/isn't a handsome reward waiting.
This is a standard across all fieldnote memo books and one I personally really like. Especially the Reward when found text.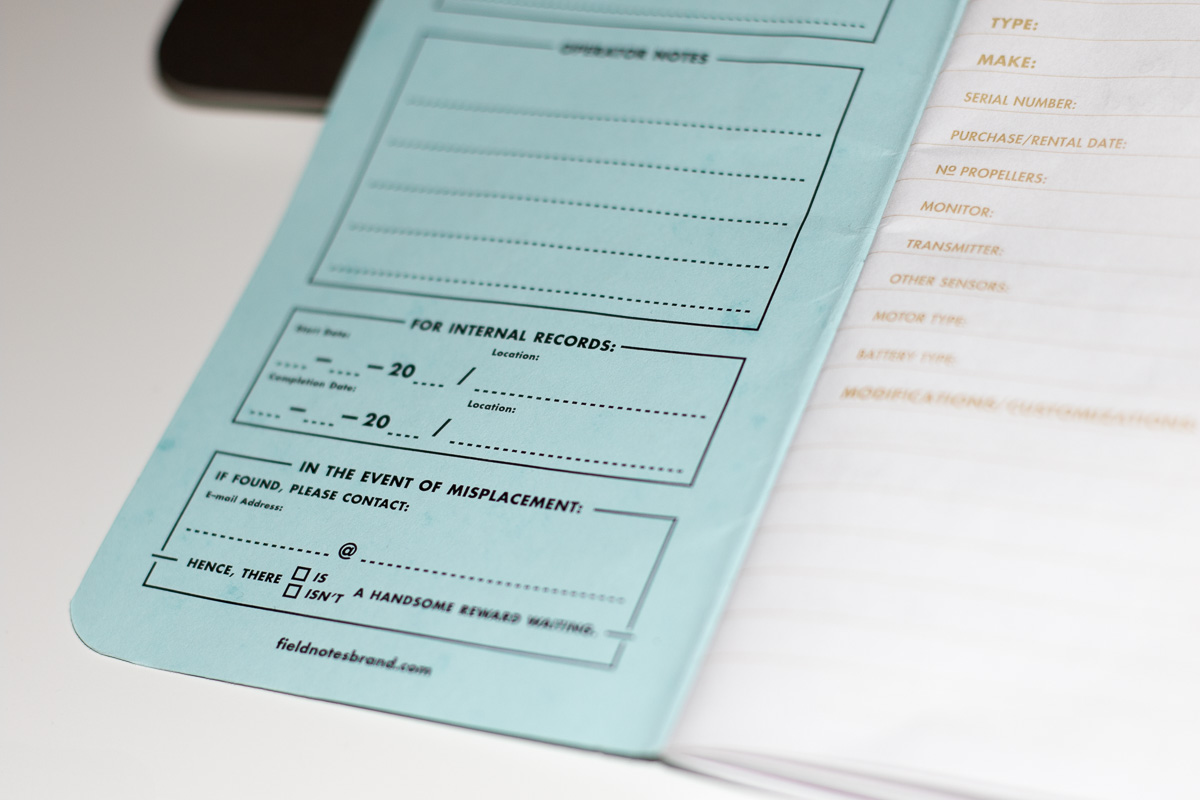 The actual first page of the memo book features a UAS (Unmanned Aerial System) data entry points. Here you can fill out all the specs of your specific craft. The list is as follows;
Name/ID
Type
Make & Model
Serial Number
Purchase/Rental Date
Supplier
No propellers
Propeller type
Monitor
Video transmitter
Transmitter
Other sensors
Motor type
Battery type
Modifications/Customizations
As you can see a pretty substantial list of information. Which will come in handy at some point.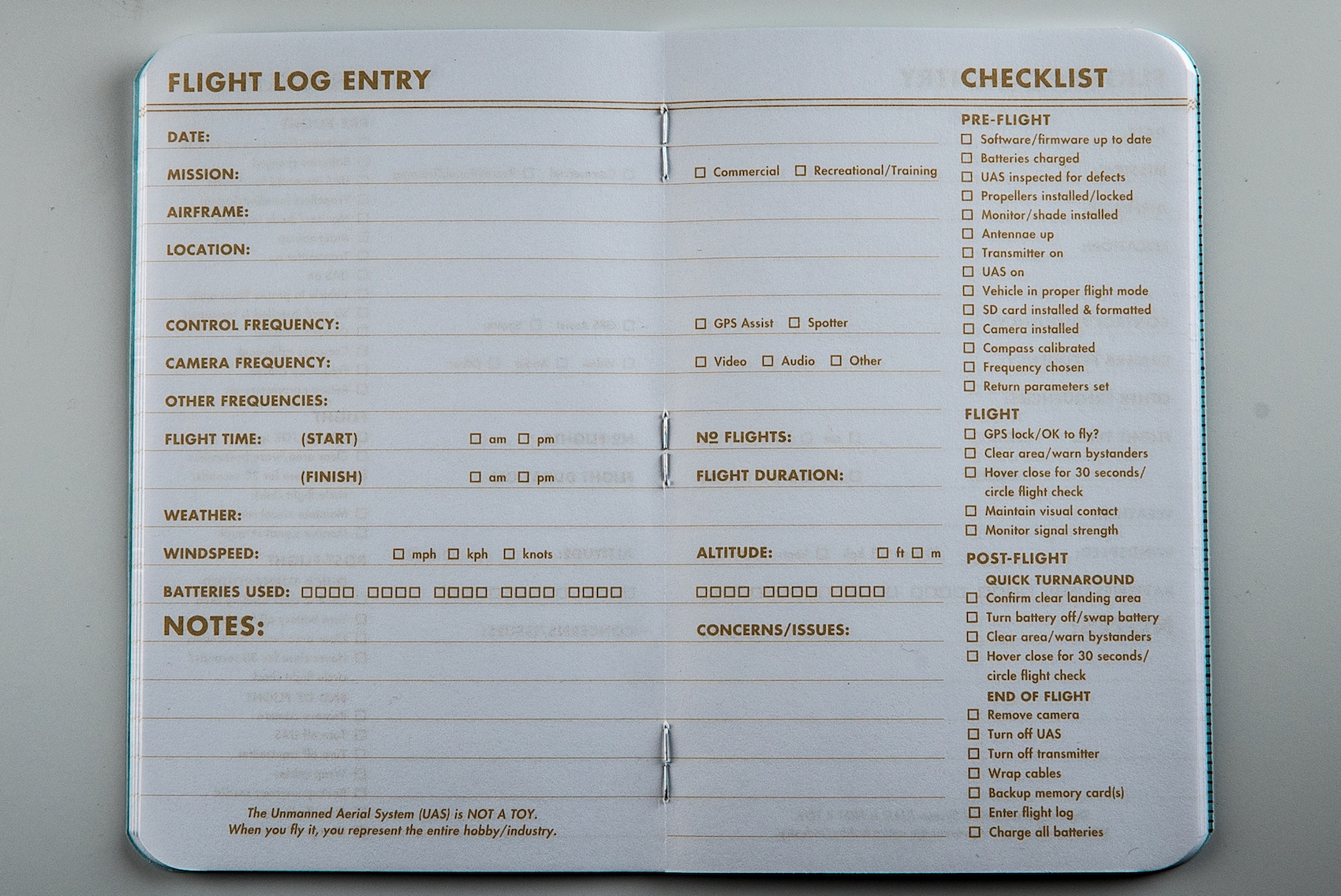 Every full spread page is 1 flight log entry. It features a pre-flight, flight and postflight checklist on the right side that covers all of the conditions you need to check before, during and after flying.
Pre-Flight checklist;
Software/firmware up to date
Batteries charged
UAS inspected for defects
Propellers installed/locked
Monitor/shade installed
Antennae up
Transmitter on
UAS on
Vehicle in proper flight mode
SD card installed & formatted
Camera installed
Compass calibrated
Frequency chosen
Return parameters set
Flight
GPS lock/OK to fly?
Clear area/warn bystanders
Hover close for 30 seconds/circle flight check
Maintain visual contact
Monitor signal strength
Post-Flight
Quick turnaround:
Confirm clear landing area
Turn battery off/swap battery
Clear area/warn bystanders
Hover close for 30 seconds/circle flight check
End of flight
Remove camera
Turn off UAS
Turn off transmitter
Wrap cables
Backup memory card(s)
Enter Flight log
Charge all batteries
As you can tell this is a very extensive checklist that features all of the major points you need to consider before and after a flight.
In my opinion, this alone is well worth $10.- a pack of fieldnotes costs.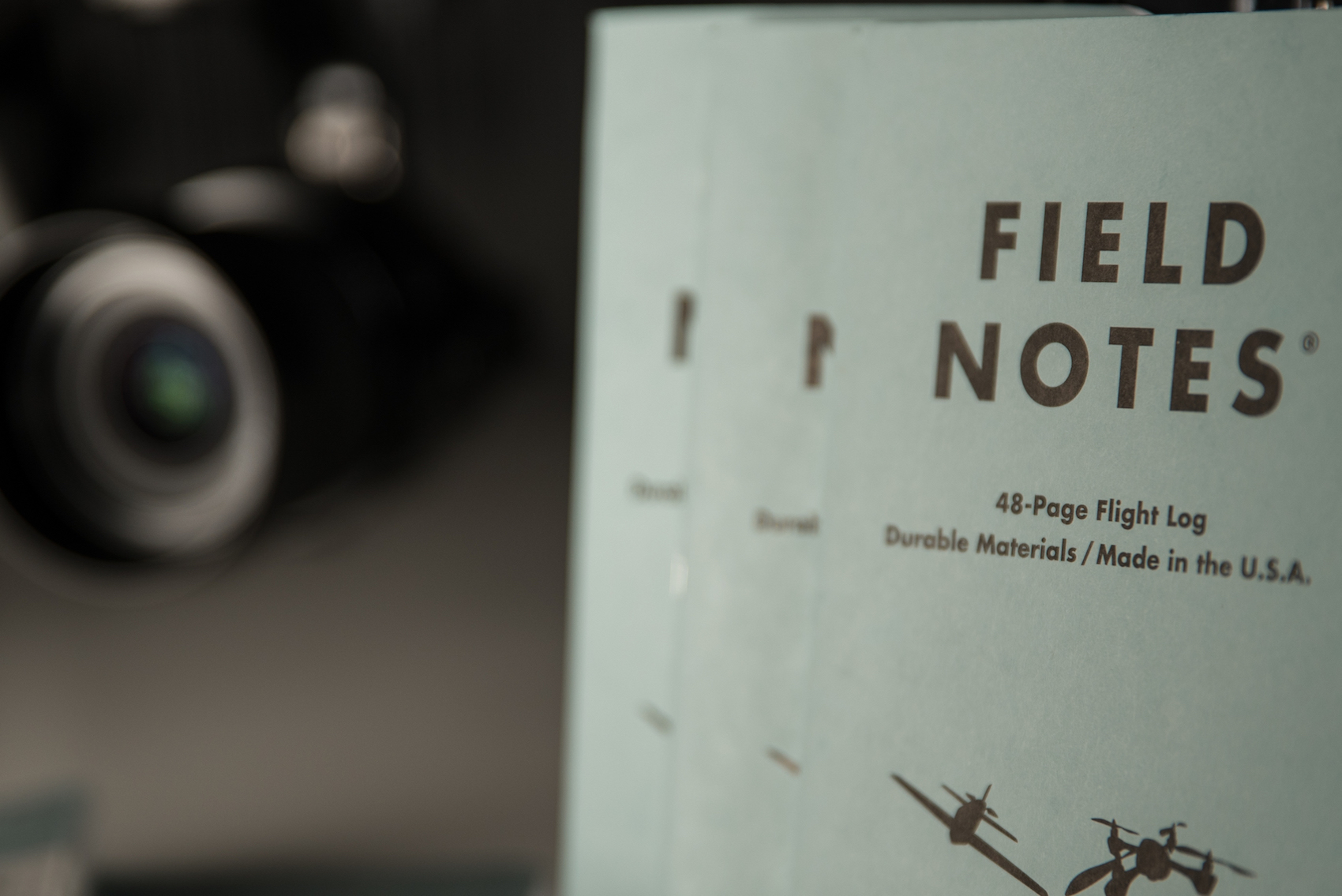 Just like the checklist Fieldnotes and Tested have thought of everything for the actual Flight log entries. From top to bottom the following information can be entered into the flight log.
Flight log entry
Date

Mission - Commercial/Recreational/Traning

Airframe

Location

Control frequency - GPS Assist

Spotter

Camera frequency -  Video

Audio

Other

Other frequencies (such as radio's)

Flight time - Start

Finish

No flights

flight duration

Weather

Windspeed (mph/kph/knots)

Altitude (ft/m)

Batteries used

Notes

Concerns/Issues
As you can tell the flight log is very extensive and has all the information you need to learn from past experiences and have accurate records of your flights.
The bottom of the page features a very important message that I'd like to repeat as well:
**The Unmanned Aerial System (UAS) is NOT A TOY. When you fly it, you represent the entire hobby/industry
**Unfortunately, this is something a lot of UAS pilots often forget.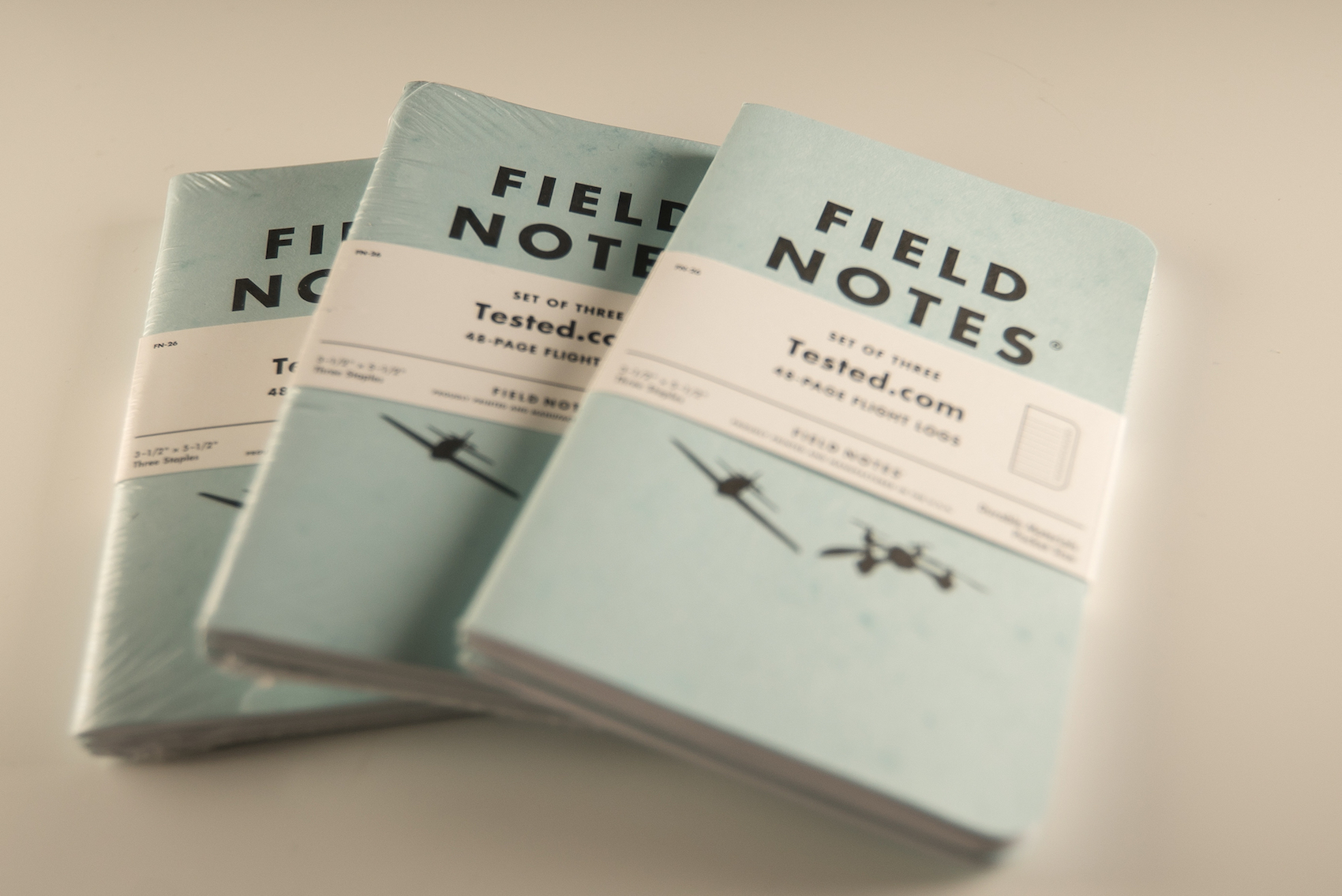 Conclusion
In my opinion, this is an item every UAS/drone pilot should have in his bag. It is an inexpensive tool that helps you record all your flight data that can be used for training or other more serious events. Basically, there is no reason not to have this with you at all times you go flying. The overall quality is very high and the product itself is very well thought out. Big props to tested.com and Fieldnotes for pulling off this collaboration. These memo books are for sale through the official fieldnotesbrand.com website for $10.00 a 3 pack.
WIN A 3 PACK OF TESTED.COM & FIELDNOTES FLIGHTLOGS
Yes, you've heard it correctly I'm giving away 3 of these fantastic fieldnote packs to 3 lucky drone pilots. All you have to do is enter your email below and that is all! This contest is open worldwide till May 1st, 2016 after which the winner will be chosen on May 2nd, 2016 and made public on facebook
This contest is open worldwide till May the 4th, 2016 after which the winner will be chosen on May 5th, 2016 and made public on facebook here and through email.