For most people travelling with their drone seems very daunting. It's unsurprising that a lot of people feel this way. Not all countries have specific drone regulations, while others are a bit of a grey area, and others outright ban them.
Taking your drone with you can make for some pretty spectacular imagery and video. But even before operating in a foreign country there is the art of actually transporting your drone through security/customs, the gate and into the plane. Scary right? Will it even fit in the overhead baggage?
To help you out I have written a blog post about it. Right here in the plane. Yes, this article is (mostly) written on Turkish Airlines flight TK1980 from London Heathrow to Istanbul, Turkey.
(this blog post has been updated [19/07/2016] to reflect new laws and regulations).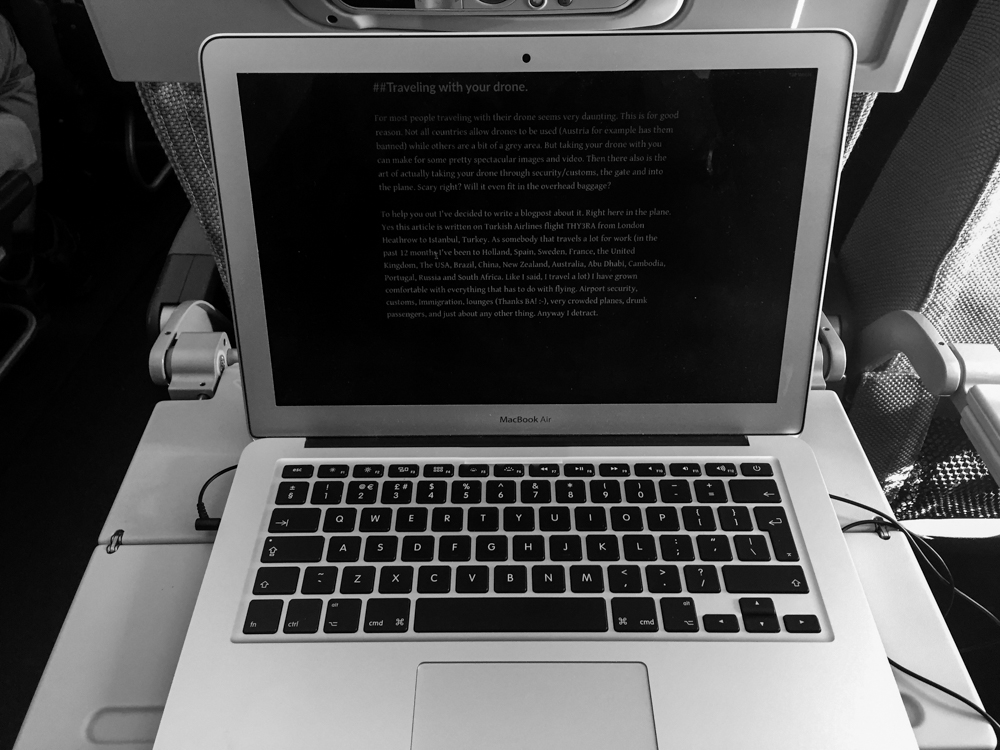 As somebody that travels a lot for work (in the past 12 months I've been to Holland, Spain, Sweden, France, United Kingdom, USA, Brazil, China, New Zealand, Australia, Abu Dhabi, Cambodia, Turkey, Portugal, Russia and South Africa. I told you I travel a lot? ) I have grown comfortable with everything that has to do with flying. Airport security, Customs, Immigration, lounges (Thanks, BA! :-), very crowded planes, drunk passengers, and just about any other thing. Anyway, I digress.
Follow along on my journey where I take my drone overseas to Turkey with me.
[convertkit form=4857773]
Planning
Before we head towards the airport, we'll need to find out if we are allowed to bring our drone to the country of destination. Often this is quite hard to find out, especially as drone laws are a hot topic and rules have been changing on a regular basis in many countries.
A simple way to verify if you are allowed to take a drone into the country is by doing a simple google search for "[country] drone regulations". In our case, we would do a search for "Turkey drone regulations". Most of the time this will lead you to either an official website with the drone regulations in the particular country or will show one of the many forums with people asking about the regulations and often with answers for local pilots. Another good way is to post the question in one of the many drone groups on Facebook. Links are below the article.
In my case, Turkey came up with this thread on Phantompilots.com with a member asking for the regulations. Their guidance led me to the regulations PDF Turkey has composed with all rules in regards to drones.
(Update 16/07/2016: I have been notified that since then Turkey has changed their rules and regulations to a stricter rule set. If you are looking to fly in Turkey, please review these documents:
UAV Specifics: http://web.shgm.gov.tr/doc5/sht-iha.pdf
Turkish regulations: http://web.shgm.gov.tr/doc5/sht-iha.pdf
Applying for an Operators' Certificate: http://web.shgm.gov.tr/en/personali-licences-and-training/2207-pilot
However, for the purpose of this blog post, I'm keeping the old Turkish regulations as an example.)
The person that made the thread mentioned some of the important rules. These are;
Drones 4 kg and under are allowed.
Speed must be under 50 km/h.
Fly no higher than 100 meters.
Recreational and sports flying are allowed.
Finding this PDF is a great step in the right direction, I had most of the information I needed straight away but of course wanted to verify it.
I've put the Turkish document into an online translator and found the same guidelines as the member on the forum was saying. An excellent way to double check is to call the institution that regulates drone rules in the given country. I tried calling the Turkish authority but sadly was met with non-English speakers.
Now that we know it's ok to bring my drone for recreational purposes we will need to take a look at what I want to bring with me. Let's go over the standard setup that I take abroad on a regular basis.
What to bring
Here are a few necessary parts you do not want to miss on location;
Your drone!
Spare props (if your out of props on location your drone will be useless).
Batteries (these require special attention, more on this later).
Drone Charger + Travel adaptors.
Filters.
Controller another obvious one.
Ipad/Android Tablet.
Your phone as a backup.
Printout of the local rules & regulations(!!).
GoPro (when using a 3DR Solo).
Leatherman (for quick fixes and tightening screws when necessary).
Flightlogs & Battery log.
It goes without saying you should have this list with you every time you fly your drone, even in your hometown. Needless to say, I have all these in my bag packed up and ready to go.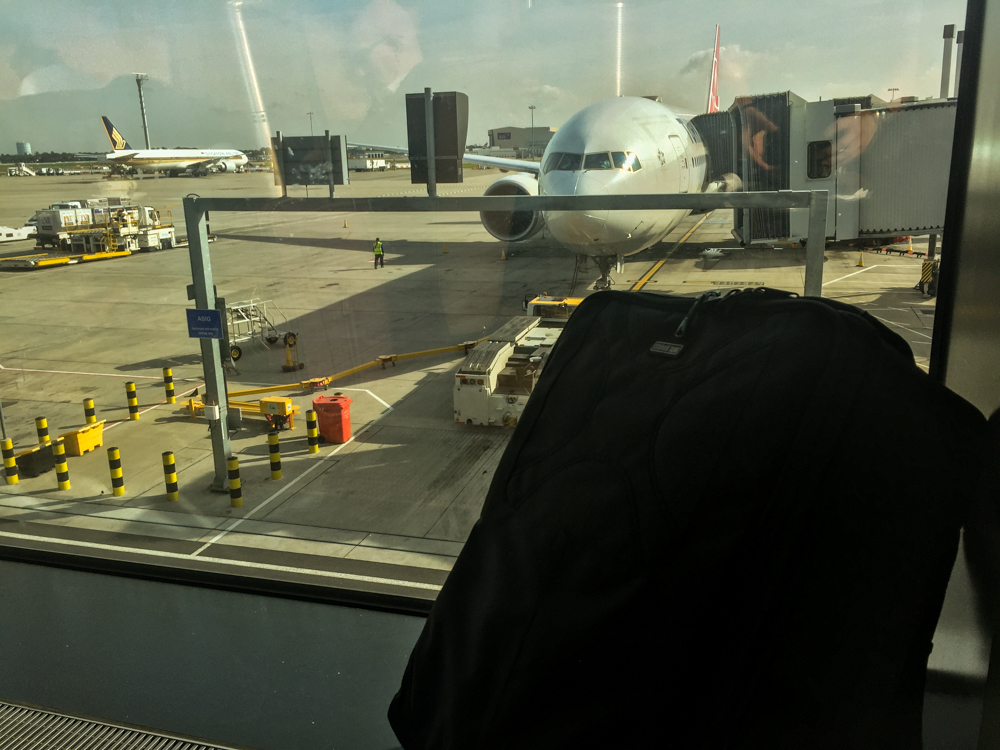 Talking about bags, we'll need something to carry it with us. Now this comes down to personal preference. You can do two things with the body of your drone (NOT THE BATTERIES, again more on this later). You can either choose to check it into the cargo hold which will need a hard Peli Case (or something similar). For inspire One's this is the only way to go, unfortunately. Or what I like to do, you can take your drone as carry-on luggage. Let's go over both options.
Checking in your drone
Personally, I'm not a fan of checking in my [easyazon_link identifier="B01CFXQZD0″ locale="US" tag="rikroukenscom-20″]DJI Phantom 4[/easyazon_link] with the risk of it not showing up at my destination. Not necessarily because of price, but more so because I need/want to use it for work and my holiday, and I don't want to miss out on incredible drone shots.
Since I'm a frequent flyer I've had multiple occasions this year of my personal (or my colleagues) baggage either turning up late (a couple of days) or not showing up at all. Something I don't want to see happening with my drone. Another obvious reason is that baggage gets pushed and thrown around a lot in air travel.
But when do you ever want to check in your drone?
– You are flying a [easyazon_link identifier="B00PQISFOE" locale="US" tag="rikroukenscom-20″]DJI Inspire One[/easyazon_link] (which is too big for carry-on luggage).
– You are bringing more than one drone with you.
– You have two bags with camera equipment.
– You feel the risk of your drone not showing up is not big enough to lodge your drone around on your back through the airport.
In that case, by all means, check it in. Your drone will probably get through without any problems 99% of the time. Don't forget the extra baggage charge at the airport.
IMPORTANT: DO NEVER PACK YOUR LI-PO DRONE BATTERIES IN CHECK-IN BAGGAGE/LUGGAGE.
Good cases for packing your drone for check-in/cargo hold travel;
– DJI Phantom Hardshell Case.
– DJI Inspire One Suitcase.
– GoProfessional Waterproof case for DJI Inspire.
– GoProfessional Phantom 3 Waterproof case.
– Any other bag that has a hard shell with sufficient padding on the inside.
Bonus tip: get yourself a [easyazon_link identifier="B015ZASEG6″ locale="US" tag="rikroukenscom-20″]tracdot[/easyazon_link] GSM tracker and put it in your case with your drone. It will send you email & SMS updates or use the app and know exactly where you drone currently is. It uses GSM towers to find out where it is. This way you'll always know if your luggage arrived or incidentally stayed at the departure airport or went somewhere else. It's super useful; I use it on my luggage all the time.
[convertkit form=4857773]
Carry-on
I personally prefer to bring my drone with me as carry-on luggage. This way I know it is safely with me and there is (almost) nothing that can go wrong that is beyond my reach. It's very easy to take your drone with you as carry-on baggage onto a plane. All you need to do it make sure it goes into a case that fits your airlines carry-on regulations.
I prefer to bring my drone with me as carry-on luggage. This way I know it is safe with me, and there is (almost) nothing that can go wrong that is beyond my reach. It's very easy to take your drone with you as carry-on baggage onto a plane. All you need to do is make sure it goes into a case that fits your airline's carry-on regulations.
In my particular case for Turkish Airlines the rules state that a person can take one carry-on bag sized (55 x 40 x 23cm) weighing no more than 8kg and one personal item. Be it a laptop, umbrella, handbag, etc. The weight of your carry-on is hardly ever checked on reputable non-budget airlines (British Airways, KLM, Turkish Airlines, Qatar, Qantas, Emirates, etc.),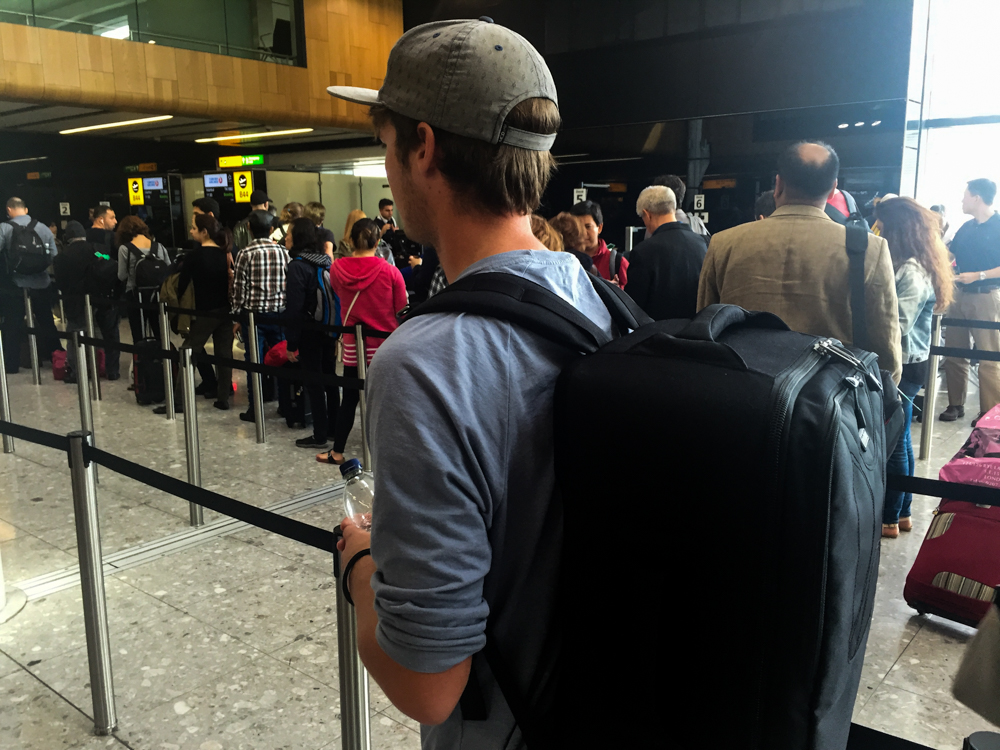 Bonus tip: It is good to note that when they do ask you to weigh your carry-on, you take out your laptop and iPad as these count as a personal item. (saving your hopefully an extra Kg). Again, check your airline's carry-on regulations since this vary's from airline to airline.
Personally, I'm using the Think Tank Helipak backpack which is designed to house your drone and has also been designed with airline travel in mind. It has the following dimensions; 52.1 x 35.6 x 22.9cm. As you can tell, this is almost the exact carry-on size limit on my flight. In other words, perfectly thought out by Think Tank.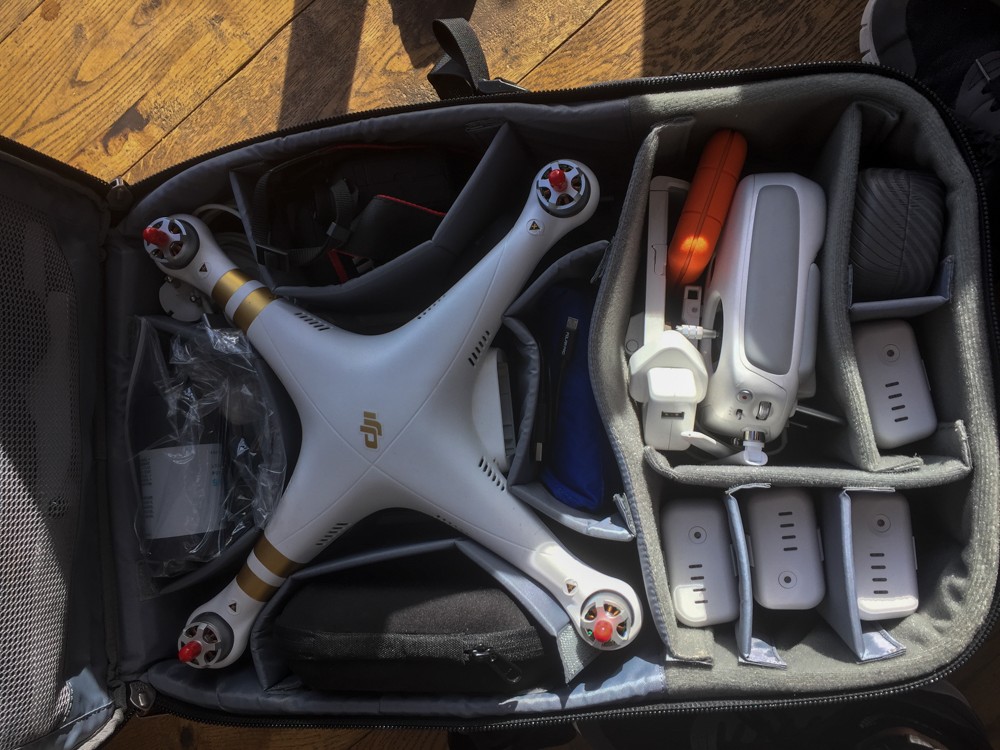 The pack features specially made padding that fits my DJI Phantom 4 (my old P3P displayed in picture) perfectly. It also houses all the batteries, controller, iPad Air 2, filters, spare propellers, tools, my Bose Noise cancelling headphones (Hiiiighly recommend these is you fly often), my Canon 7D Mark II, 18-35mm Zoom lens, Canon 50mm II, my sunnies, charger, my MacBook Air & hard-drive. In other words, it fits just about everything I need. Is it under 8 Kgs? uuhm.. Maybe.. 😉
The main reason I've gone for this backpack and not the DJI Hard-case is that while the DJI Hard-case is nice and protective, it does not offer any room to bring extras along. Let alone fit the iPad you need to fly your drone. (wake up DJI).
Other packs you can use;
– Think Tank Heli Pak (can't recommend this one enough).
– DJI Phantom 3 Hard Case.
– 3DR Solo Backpack.
Now that we know what to pack our drone in, it's time for the most important part.
Batteries
IMPORTANT: PLEASE PLEASE PLEASE FOLLOW THESE GUIDELINES TO CARRY YOUR BATTERIES SAFELY WITH YOU ON AN AIRCRAFT. THIS IS FOR YOUR SAFETY BUT MORE IMPORTANTLY FOR THOSE AROUND YOU.
NEVER CHECK YOUR BATTERIES INTO THE CARGO HOLD. ALWAYS TAKE THEM AS CARRY-ON. WHEN SOMETHING HAPPENS IN THE PLANE THE CREW CAN RESPOND TO A DANGEROUS SITUATION OR FIRE. INSIDE THE CARGO HOLD THEY CAN NOT! Think about it, would you want to be trapped in a plane that is on fire with no way to reach the blaze? Exactly.
DJI's batteries and 3DR Solo's batteries are what we call Li-Po batteries. The technology or rather chemistry inside these batteries allows them to stay lightweight and pack a lot of energy. We all know what can happen when you pack up a lot of energy into a tiny space. It tends to be unstable and go boom. Something you don't want to happen on a plane.
It does not necessarily mean Li-Po batteries are unsafe for air travel. You just need to use caution. How do we do this?
What you want to do it make sure your batteries are filled up to no more than 30%. As you might know already, this is what you put your batteries in for safe long term storage.
For air travel with your drone, you want this to be the same. What this does is it takes the energy out of the battery and makes sure it gives the battery room to "breath". Li-Po batteries can expand and retract when there is a change in pressure, temperature or any other anomaly. Having your batteries in 'storage mode' will make sure your battery can cope with this "expanding" and "retracting" behaviour. Making it safer to transport. Completely safe? No, but it will be as safe as it can be.
What happens when you don't do this? Well, You greatly increase the risk of your battery saying puff (expanding and tearing open) which can lead to a Li-Po fire. Let's just say you do NOT want this to happen in flight.
Next to this is it highly recommended to put your batteries in specially made Li-Po fireproof bags. It will reduce the risk of fire spreading and will help contain the situation when something does go wrong.
When you want to bring more than one battery with you, you will need to consider the following rule:
Spare batteries up to 100 Wh (watt hours): hand luggage only, max weight of allowed hand luggage
Spare batteries from 100 Wh up to 160Wh (max): hand luggage only, max 2 batteries per passenger
Perfect now we are all set to go to the airport!
Airport Security
Now that you have everything packed up in your back, your batteries in storage mode (around 3.8 Volt) and your tickets at hand it is time to head to the airport. Now the hard part starts… Just kidding, Drones are a surprisingly common sight for security/customs operators. Years back they were often very curious, and I have had to open my bag many many times. Or even better, they wanted to show their colleagues the drone under the X-Ray! Nowadays drones often go straight through the security check without any issue when you depart from a country. So did mine, I left everything inside my bag except my iPad, laptop and drone batteries and it all went through without a hitch.
If your bag gets picked up by security for inspection, don't panic. Tell security it's a drone and show them the contents of the bag. It's more likely that you left your deodorant in the bag. 😉
Now that you are past security there are no more hurdles to overcome. Get yourself a coffee and wait till boarding. Hop onboard and you'll find that your backpack fits perfectly in the overhead bin's and enjoy the flight.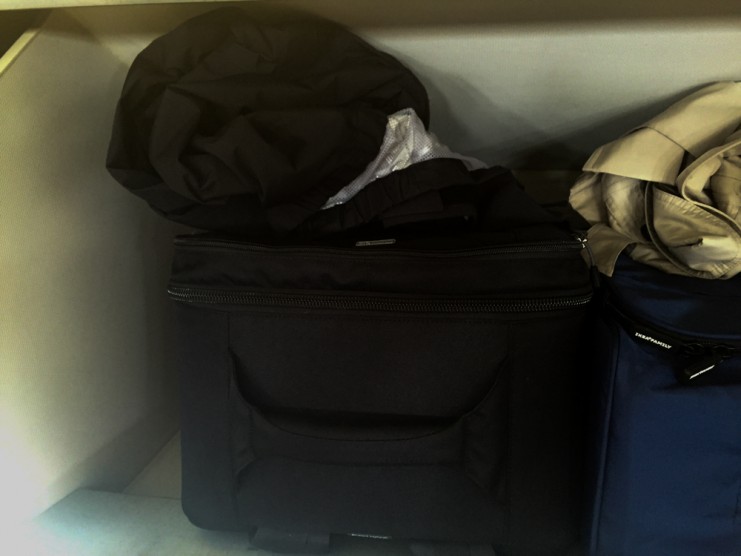 I hope this will help you get all the amazing images and video you want on your holiday. Be mindful of the people and nature around you, you are a guest in the country.
Just remember, when you are leaving the country, you were visiting make sure your batteries are charged no more than 30% and not full.
I'd love to hear your travelling questions and experiences with your drone. Share them in the comments!
Facebook groups: